What do you do when life gives you loads (as in several kilograms) of dried apricots? Well, amongst other things, I made dried Apricot Jam! I use parentheses for 'jam' because it's really just dried apricots that have been boiled in some water with some lemon juice then blended… but hey!
Most of the jams you find in supermarkets and even homemade/artisanal jams are LOADED with added sugar (even if it comes from a natural source like honey or maple syrup). I understand the sugar acts as a preservative but I always find them so ridiculously sweet when I taste them. Hence the minimal ingredients in this Dried Apricot Jam – the apricots are sweet enough!
If you like this, then also check out my recipe for Sugar-free Strawberry Jam 🙂
Recipe Type: GF, DF, RSF, V, Paleo
Makes ~ 1 C
Time 20 min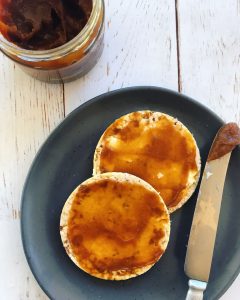 Ingredients:
1 C organic dried apricots, chopped (organic dried apricots will be brown in colour as there is no preservatives added to them to keep them orange.
juice of 1/2 a lemon
1 cup water
Method:  
Place all ingredients in a small pot and bring to a simmer while stirring.
Turn the heat down and allow to simmer on low heat for 10-15mins without the lid, stirring every few minutes.
Test the texture of the chopped apricots every few minutes until they're soft.
Remove from heat. Use an immersion blender to blend the apricots together, leaving some chunky bits still.
Pour into a sterilised glass jar, secure the lid and allow to cool on the bench before storing in the fridge.