Do you think Lamb Shanks can only be served slow cooked in a stew on a cold winter evening with mashed veggies Well think again! These Lamb Shanks with Tonkatsu sauce are the perfect summer dish, have them hot straight out from under the grill or have the leftovers cold the next day – both equally as delicious!
This is a delicious and fabulous way to cook gorgeous free-range, organic lamg shanks from Sherwood Rd Organic Meats. If you like this recipe then you could also try my Roast Beef rump cap with Roast Capsicum Tapenade & Village Salad or my Asian-Style Pulled Pork!
Serves 6-8
Time – about 3.5 hours
Ingredients:
6 organic, free ranging Lamb Shanks
Tonkatsu Sauce (if using fewer lamb shanks, you can just make half the recipe)
1/2 cup passata sauce
1/2 cup Worcestershire sauce*
1 Tbsp Tamari sauce
1 Tbsp Honey
Pickled Daikon Salad
2 carrots, peeled into ribbons
1 daikon, peeled into ribbons
1 red capsicum, peeled into ribbons
1 zucchini, peeled into ribbons
1 cup water
1 cup vinegar (any kind)
4 tsp salt
3 tsp sugar
*Option for a super quick homemade Worcestershire sauce instead of store-bought, Mix below amounts together:
3 tablespoons apple cider vinegar
1 tablespoon soy sauce
1/2 tablespoon honey
1/2 tsp chinese 5 spice
1/8 teaspoon onion powder (or 1 tsp onion infused olive oil)
1/8 teaspoon garlic powder (or 1 tsp garlic infused olive oil)
1/8 teaspoon ground ginger
Pinch of allspice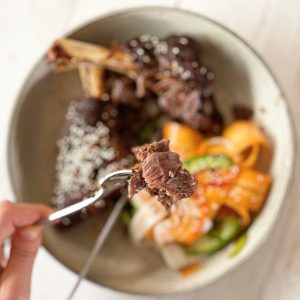 Method:
Preheat the oven to 130°C. Rub the shanks in some salt and pepper and drizzle with a little EVOO. Wrap in alfoil and place on a baking dish. Bake for 3 hours or until tender.
Whisk the Tonkatsu Sauce ingredients together in a bowl/jug ready for when the shanks are done.
Remove shanks from oven, unwrap the alfoil. Switch the oven to Grill function.
Brush the shanks with the tonkatsu sauce and grill for 10-15mins or until golden and caramelised.
Serve with Pickled Daikon Salad below.
For the Picked Daikon Salad:
Prepare the Pickling brine by mixing all ingredients together in a jug. Make sure the salt and sugar are fully dissolved. You may need to make more brine in order to cover your vegetable ribbons.
Place vegetable ribbons in a large bowl. Pour the brine over the top. Brine must cover all veggies.
Place in the frige for a couple of hours until meal time.