Because when it's cold outside, who doesn't crave a warm, heartly, slow-cooked meal for the soul? A gorgeous beef ragu tickes all those boxes and is a delicous way to end a cold winter's day. Pair it with your favourite serving option (see my suggestions below) and some steamed greens and you're well on your way to warm night's sleep.
Beef Ragu is a delicious and fabulous way to cook gorgeous free-range, organic beef brisket from Sherwood Rd Organic Meats. If you like this recipe then you could also try my Roast Beef rump cap with Roast Capsicum Tapenade & Village Salad or my Asian-Style Pulled Pork!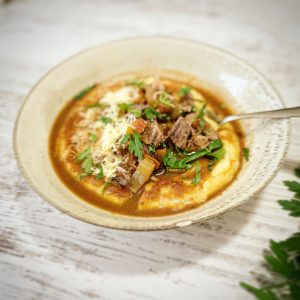 Serves 6-8
Time – about 7 hours
Ingredients:
1.5kg organic, pastured beef brisket, cut into 2-3cm chunks
4-5 tbsp olive oil
2 onions, finely chopped
3 carrots, finely chopped
4 celery sticks, finely chopped
4 garlic cloves, sliced

400ml red wine
2 rosemary sprigs
a few sprigs of thyme
2 bay leaves

2 x 400g cans chopped tomatoes
500ml beef bone broth
salt and pepper to season
optional – chilli (to your taste – use either fresh, paste, or flaked)
Goes well with:
Creamy polenta (as pictured here)
Pappardelle (and other pasta of your liking)
Fresh lasagne sheets, roughly cut into different shapes and cooked
Mashed vegetables
Rice or another cooked grain/mixture
Gnocchi
Method:
Heat a large skillet to medium, add a tbsp EVOO and brown the outsides of the brisket chunks, in batches if required, then transfer to the bowl of your slow cooker.
Add onions and some more EVOO to the pan and fry-off for 3 mins. Add the garlic, carrots, celery, rosemary and thyme. Fry off for a further 5 minutes.
Add remaining ingredients except the chilli. Bring to the boil then transfer to the slow cooler bowl with the beef and give it all a good stir.
Cook in your slow cooker for 8 hours on low or 4 hours on high or until the meet starts to shred. Add chilli at the end to your taste.
Serve beef ragu with your choice of accompaniements – pictured here with creamy polenta, parmesan and fresh parsley.