TESTIMONIALS – Workshops, Seminars, Programs and Demonstrations
Do you struggle to figure out what the truth about nutrition is? To figure out what the best way to go is with all these different trends and fads rolling through your social media feed?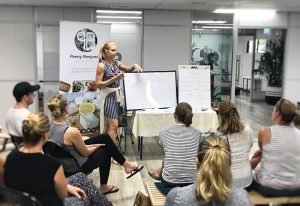 At my workshops, seminars and demonstrations, I break nutrition down in to easy-to-understand principles that can be EASILY implemented straight away.  We also go through real life examples, tastings and demonstrations to get you started and empower you to nourish yourself and your family with the best foods possible!
Checkout my upcoming workshops and seminars or get in touch to book a private/corporate event.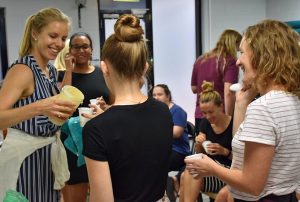 Previous Workshop Collaborations:
Here are some of the businesses/organisations where Penny has facilitated nutrition workshops/healthy cooking classes:
Brisbane City Council (through their Active & Healthy Brisbane program)
The Women's College, The University of Queensland
Several F45 Training gyms around Brisbane (Carindale, Pullenvale, Indooroopilly)
Bodylife Pilates
KX Pilates, Red Hill
Powered By Pilates, Taringa
The Produce Wholefood Pantry
Reform Studios
Body Tone Pilates
Brisbane Strength & Movement
9Round, Ashgrove
The Evolved
Reviews of Penny's workshops:
Alice Draffin (September 2019) ***** – "As the Coordinator of Student Life at a university residential college, I found Penny's nutrition session with my students to be very valuable. She was able to help them navigate the many dietary options put forward within a dining hall, so that they can properly fuel their bodies and minds whilst studying at university."
Jay Burke (July 2018) ***** – "Penny ran a healthy cooking class for my Financial Planning team at Burke Britton Financial Partners. It was educational, fun and delicious in one fantastic social and team building afternoon. Thanks again Penny for the day and the bliss ball inspiration! Jay and the Team at BBFP."
Celeste Powell (June 2018) ***** – "My Nutrition 101 session with Penny was fantastic, she explained clearly and effectively the science behind the food we eat and why we need to feed our bodies real whole food, as well as simple and effective ways to hit macro goals with every meal. I was inspired to look at my plate differently and to not be afraid of carbs or fat if I want to reach my goal. Thanks Penny for a very informative Sunday morning. I'm off to mix up a cauliflower, PB & chocolate smoothie."
Tanya Ray (June 2018) ***** – "I absolutely loved Penny's Nutrition 101 workshop. So practical with real food demonstrations and tastings as well as some great, useful information that will be easily implemented into my busy life. Thank you Penny."
Christine Lane (March 2018) ***** – "Penny's approach to nutrition is realistic and maintainable, she is all about keeping things local and time effective. I've had the pleasure to have Penny cook for me numerous times and have made many of her recipes myself. Her workshop (Nutrition 101) was amazing and so simple to follow! Thank you Penny, for your support and realistic guidance, it really has made mealtimes not only more nutritious but even faster!"
Amelia Harney (March 2018) *****- "I recently attended Penny's 101 Nutrition workshop and it was amazing! I think we all know what we 'need' to eat – but do we know why? Penny made the science behind nutrition accessible and understandable AND FUN! And don't get me started on the taste tests… yum!! I just had to stop and get some groceries on the way home from the workshop to get my nutrition on!"
Sally Roberts (March 2018) ***** – "Penny's approach to nutrition is realistic and achievable. She has a natural ability to keep things simple while providing you with a lot of information. Plus she is a super nice person, has a great energy and you just want to be around her all the time!!! Thanks for being you Penny"
Erin Condon (February 2018) ***** – "I attended Penny's Nutrition 101 workshop in February. I learned how to create nutritionally balanced meals and snacks without needing to spend hundreds of dollars on random ingredients. Her recipes are creative yet simple and her approach to nutrition is balanced and realistic. She has a natural presenting style and explains the science behind nutrition in a really interesting and engaging way. I couldn't recommend her workshop highly enough."
Shoshana Cohen-Tidy (February 2018) ***** – "Attended Penny's Nutrition 101 Workshop this past Sunday at Reform Pilates Studio in Mitchelton. She taught me and the packed room of participants so much about nutrition and the science behind it and what to eat to keep me energized all day. I've tried tons of recipes already after taste-testing them at the workshop. It's really motivated me to start eating clean. Thanks to Penny I think I'm finally on the right track."
Elizabeth White (October 2015) ***** – "After taking a fun and inspiring cooking class with Penny I would definitely encourage anyone to give it a go! Penny is full of great tips and tricks, new and exciting ways to serve up those veggies, great ideas for substituting in some better choices into your everyday meals. The class was small and provided heaps of opportunities to get to know these veggies of ours better! Thank you Penny!"
Janelle Hodgson (October 2015) ***** – "Attended Vivacious Veggies cooking class this morning – could also be called vivacious versatile veggies! We made sweet and savoury snacks, Bircher muesli with carrots – delish! As well as main courses and side dishes, thus enjoyed a delicious lunch at the conclusion. Penny's depth of knowledge enables recipes to be adapted to suit all diets, mainstream, paleo, gluten free, lactose intolerant, raw or combinations thereof. Thanks Penny for a fun and informative Sunday morning."
Jacalynne Peake (July 2015) ***** – "I attended a cooking class with Penny in 2015 and it was amazing. Penny you have given me the confidence to try new food and to encourage my children to try different fruit and vegetables. You taught me how simple it is to prepare nutritious meals for my family with simple techniques and minimal cooking gadgets. Thank you for this opportunity and I highly recommend this to everyone the tips are easy and teach you to stop over complicating cooking healthy meals."
Kim Morris (July 2015) ***** – "Being inexperienced in the kitchen, I found the practical, hands on approach Penny used in her cooking class, gave me the confidence I needed to start making things happen in the kitchen!! My family has loved me experimenting with new techniques & flavours! Would recommend this class to anyone at any level as Penny was great at tailoring her approach."
Compilation Testimonial Videos:
In-Home Workshops and Cooking Classes:
Tamra and Grey (September 2015) – "We were recommended Penny by a friend when looking for a home cooking lesson for our honeymoon and were met with a warm and welcoming response; Penny coming up with a personalised package that excited us both. Penny created a menu that suited our needs paying close attention to what we asked for, while delivering the lesson in a relaxed and fun atmosphere, encouraging us to be very hands-on throughout. Her recipes were simple and inspiring, offering plenty of room for us to create more delicious meals on our own, which is exactly what we were looking for. Thanks so much Penny!"