Because when it's cold outside, who doesn't crave a warm, heartly, slow-cooked meal for the soul? A gorgeous pork stew ticks all those boxes and is a delicous way to end a cold winter's day. Pair it with your favourite serving option (see my suggestions below) and some steamed greens and you're well on your way to warm night's sleep.
This Moroccan-Style Pork Stew is a delicious and fabulous way to cook gorgeous free-range, organic pork from Sherwood Rd Organic Meats. If you like this recipe then you could also try my Roast Beef rump cap with Roast Capsicum Tapenade & Village Salad or my Asian-Style Pulled Pork or my Beef Ragu!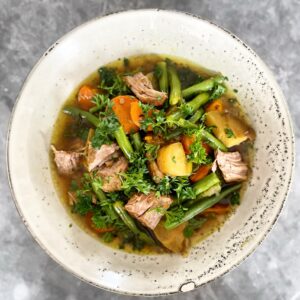 Serves 6-8
Time – about 5-9 hours (depending on cooking rate
Ingredients:
1 kg pasture-raised pork collar butt, cut into 3-4cm chunks
1 brown onion, diced
1/2 bunch celery, chopped
1 small sweet potato, roughly chopped
2 parsnips, roughly chopped
2 carrots, roughly chopped
8 button mushrooms, quartered
300g green beans (topped & tailed, halved)
2 tsp cumin
2 tsp coriander
2 tsp turmeric
2 tsp paprika
1 tsp salt
1/2 tsp cinnamon
2.5 cups broth
1/2 cup red wine
Goes well with:
Creamy polenta
Mashed vegetables
Rice or another cooked grain/mixture
Cauliflower 'rice'
Gnocchi
Method:
Heat a large skillet to medium, add a tbsp EVOO or lard and brown the outsides of the collar butt chunks, in batches if required, then transfer to the bowl of your slow cooker.
Add diced onion, chopped celery plus all the spices & salt to the pan and fry-off for 3 mins. Transfer to to the slow cooker
Add the chopped carrots, parsnip, sweet potato, and mushrooms straight to the slow cooker.
Add the broth and red wine to the slow cooker, cover and cook for 8 hours on low or 4 hours on high or until the meet starts to shred.
Add the green beans at the end for 15 minutes so they just blanch through.
Serve the pork stew with your choice of accompaniements – pictured here with creamy polenta, parmesan and fresh parsley.