What a delicious and fabulous way to cook a gorgeous free-range, organic beef rump cap from Sherwood Rd Organic Meats. This roast beef rump cap with Roast Capsicum Tapenade & Village Salad is a perfect dish to serve up at a family event or even a summer BBQ!
If you prefer a slow cooked, warming recipe, then try my Slow Cooked Lamb/Beef Burgundy, my Pineapple Pulled Pork or my Asian-Style Pulled Pork!
Serves 6-8
Time – about 1 hour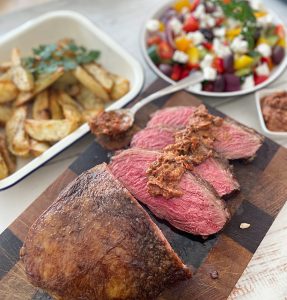 Ingredients:
1.5kg Organic, pastured, beef rump cap
1 Tbsp cooking oil
salt and pepper
4 large potatoes, chopped into wedges
1 Tbsp mixed herbs
1 Tbsp EVOO
For the Tapenade:
2 red capsicums, seeds removed, roughly chopped
1/2 cup kalamata olives
3 Tbsp capers
6 sun dried tomato halves
3 cloves garlic
2 Tbsp EVOO
juice of 1/2 a lemon
cracked pepper and salt to taste
Village Salad:
1 lebanise cucumber, chopped into cubes
1 punnet cherry tomatoes, halved
1 red capsicum, chopped into ~2cm pieces
1 yellow capsicum, chopped into ~2cm pieces
1/2 red onion, chopped into ~2cm pieces
1/2 cup kalamata olvies
1/2 cup feta, crumbles
juice of 1/2 a lemon
1 Tbsp EVOO
Salt and pepper to taste
Method:
For the Tapenade:
Preheat the oven to 200C.
Spread out the red capsicum over a baking tray and bake for 30mins or until cooked and a little charred in spots. Remove from oven.
Place all other tapenade ingredients into a food processor and process until combined cut still a little chunky.
Once cooled, add the roasted capsicum and pulse through.
Transfer to a jar for later
For Village Salad:
Chop all the vegetables if not done already, add to a bowl and toss with lemon juice, EVOO, salt and pepper.
Spread the olives and feta over the top of the salad to serve.
For the Roast Rump Cap:
Preheat oven to 200C
Spread out potatoes on a baking try, sprinkle with EVOO, salt, pepper and herbs. Place in oven and cook about 30mins or until cooked and  a little golden.
Season the fat layer of the rump cap with salt.
Heat a large fry pan over medium heat.
Add EVOO and rump cap fat side down. Turn the heat down to low/medium and render the fat for about 10mins. Flip and continue to cook other side for 5mins while basting with the fat in the pan.
Turn the oven down to 150C.
Transfer rump cap to a baking dish (drizzle rendered fat over the top of the rump cap) and place in the oven for about 45minutes.
Remove from the oven and allow to rest for 10-15mins before slicing the roast beef rump cap and serving with the tapenade, salad and potatoes.