When life (or my local fruit shop) gives you limes ($10 for an entire box!!!). Then you go about finding aaaallll the different things you can do with them! Enter this recipe for Lime Slice! It was super fun making this and I based it on a recipe from Ulu Hye for passionfruit slice that I love. 
For more recipes using limes, try this Indian Lime Pickle or Lime Butter recipe.
Makes about 16 squares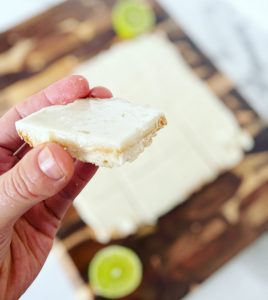 Ingredients:
Base
1 C almond, walnut or other nut meal
1/2 C desiccated/shredded/flaked coconut
1/3 C tapioca flour or corn flour
1/4 C butter
2 T honey
1/2 t vanilla paste
Top Layer
1 C nut milk
1/4 C coconut cream
1/2 C lime juice
zest of 1 lime
2 T honey
1 T gelatin + 3 T water to bloom
1 T butter
1 t vanilla
Method:
Preheat oven to 180 degrees celcius and line a square baking tray with baking paper or reusable silicone sheet.

Combine dry base ingredients in a bowl then add the butter, honey and vanilla and stir through. Once all combined press mixture into the baking dish and bake for 12 minutes. Once cooked, set aside to cool.
In a small bowl or ramekin, place the gelatin with a little water to bloom for 5 minutes.
In a medium pot, pour the milk, coconut cream and whisk to combine. Whisk-in the remaining top layer ingredients and bloomed gelatin. Turn the heat up to med-high.
Stir continuously with whisk as it thickens. Once it starts to thicken, turn the heat down to low until you have a custard-like consistency then take off the heat.
Pour the mixture over the base and refrigerate for about 3 hours to set the lime slice.
Cut the lime slice into squares and enjoy. Keep refrigerated for 3-4 days or freeze and enjoy later!