When life (or my local fruit shop) gives you limes ($10 for an entire box!!!). Then you go about finding aaaallll the different things you can do with them! Enter this recipe for Indian Lime Pickle! Based on this recipe, it was super fun making this and I'm loving using the lime pickle as a side to any sub-continental-style curries.
For more recipes using limes, try this Lime Butter recipe.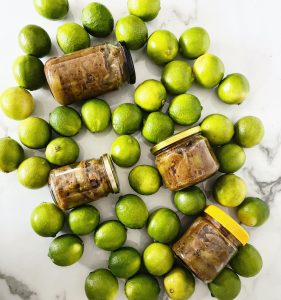 Makes about 4 small jars
Ingredients:
16 limes
2 tablespoon salt
4 tablespoons mustard seed or coconut oil
4 teaspoons mustard seeds
6 garlic cloves, finely chopped
4cm-piece fresh ginger, peeled, finely chopped
4 teaspoons ground cumin
4 teaspoons ground coriander
1/2 teaspoon chilli powder
1 cup water
about 1/2 cup brown sugar
1/4 cup white vinegar
Method:
Cut each lime into 8 wedges. Place in a large bowl. Sprinkle with the salt. Cover and set aside in a cool dry place, stirring occasionally, for 2 days.
Heat the oil in a medium saucepan over medium heat. Add the mustard seeds and cook for 30 seconds or until the seeds start to pop. Add the garlic, ginger, cumin, coriander and chilli powder. Cook, stirring, for 30 seconds or until aromatic.
Stir in the lime mixture, water, sugar and vinegar and bring to the boil. Reduce heat to low and simmer, stirring occasionally, for 15-30 minutes or until the mixture is thick.
Spoon into glass jars. Seal and invert jars for 2 minutes. Set aside for 1 week to develop the flavours.
Serve Indian Lime Pickle with various Indian curries.