When life (or my local fruit shop) gives you limes ($10 for an entire box!!!). Then you go about finding aaaallll the different things you can do with them! Enter this recipe for Lime Butter (aka Lime Curd)! It was super fun making this and I'm loving using the lime butter spread on my homemade sourdough crumpets or rye sourdough, or even drizzled over ice cream.
You can of course use lime curd in a lime curd pie or lime slice :).
For more recipes using limes, try this Indian Lime Pickle recipe.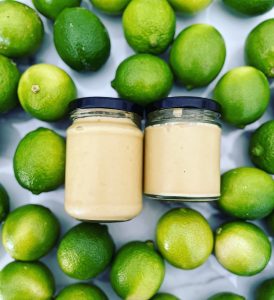 Makes about 4 small jars (or halve the recipe and make less)
Ingredients:
1 cup lime juice
6 large eggs
6 T rapadura sugar
Pinch salt
zest from 2 limes
8 T butter
Method:
Place eggs, sugar, salt, juice, and zest in a medium saucepan. Do not put it over the heat yet. Whisk the ingredients together until smooth.

Place over low heat. Stir constantly with a whisk until the mixture thickens. It's important you constantly whisk the lime butter otherwise you'll end up with a sweet lime sramble haha!

Turn all the way to low and add the butter. Stir until smooth.

Remove from heat and pour into jar(s).

Store lime butter in the fridge.