And the search for what to do with my sourdough starter 'discard' continues… There's always the easy pancakes and crepes, or just stirring some of the starter into any muffins or cookies I'm making. But when I was at the shops the other day I was reminded how much I LOVE Crumpets! And I thought, "I wonder if I can use my starter discard to make sourdough crumpets…"
Not only is the answer a resounding, YES, it's SO FREAKING EASY as well! Check the recipe out below.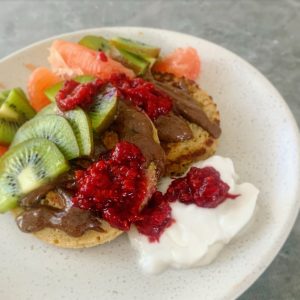 PS – you can get my sourdough bread recipe here – Rye Sourdough – or gluten free sourdough here.
You can serve your sourdough crumpets however you like of course – go nuts like I have here or keep it simple with some butter and honey.
Ingredients (makes 2 sourdough crumpets):
1/2 C Sourdough discard
1/2 t honey
1/4 t vanilla paste
pinch salt
1/4 t baking soda (bi-carb soda)
Method:
Place the starter in a pyrex measuring jug. Use a fork to whip in the sugar, vanilla and salt, then the baking soda. The batter should rise up and bubble a bit, becoming almost billowy.
Heat a non-stick pan over medium-low heat. Lightly grease the surface with EVOO or butter.
Lightly grease two English muffin rings or silicone egg rings, and place on your pan. Pour the batter from the jug evenly between the rings. Allow to cook for about 5 minutes, until the tops are set and full of small holes. Remove the rings and carefully flip the crumpets over. Continue to cook for about 2 mins or until golden on the bottom.
Serve warm with your favourite accompaniements!