Here's another cracker (and super simple dish) for your Meat free Mondays! Lentil Bolognese. This recipe is really easy, no fancy ingredients or complicated cooking methods, just good old fashioned cooking.
Some of my other favourite meat-free dishes include Eggplant Parmigiana, Whole Baked Cauliflower, Risotto Cake, Pumpkin Bites and Roast Pumpkin Quiche.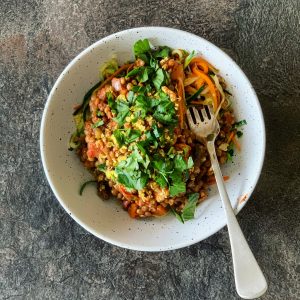 Serves 4
Time – 30 mins
Ingredients:
1 cup French (puy) lentils, soaked for 4 hours (you could also use red lentils here too)
2 carrots, diced or grated
1 red onion, diced
1 cup button mushrooms, quartered
2 cloves garlic, crushed
1 can organic crushed tomatoes
1 C broth/stock
2 T mixed dried herbs
salt and pepper to season
Optional: add some olives and/or sun-dried tomatoes as well!
Brazil Nut Parmesan or regular parmesan cheese, fresh parsley and zucchini noodles/spaghetti to serve
Method:
Drain and thoroughly rinse lentils.
Heat a medium sized pot over medium heat with a dash of Extra Virgin Olive Oil.
Add chopped onion and sauté for 2 mins.
Add carrot, mushrooms, garlic and fry off for another 3-4 minutes.
Add drained lentils and mixed herbs and stir all ingredients together to heat through (about 1-2 minutes).
Add crushed tomatoes and broth (and olives and sun-dried tomatoes if using) and bring to the boil before reducing the heat to a simmer.
Allow the lentil bolognese to simmer for 20-25 mins, stirring every 5 minutes or so, until lentils are cooked and tender.
Taste and season with salt and pepper.
Serve with your favourite pasta or veggies! I love to top mine with fresh parsley and my Brazil Nut Parmesan!
This lentil bolognese freezes really well – separate into portions as well if you need!