This Tomato and Herb Baked Cauliflower tastes divine by itself and with roast or grilled meat by my favourite is as leftovers in lunch salads!
Our lovely cruciferous vegetables appear abundantly at the local farmers markets in the autumn and winter months here in Australia. The nutritional benefits these veggies like Cauliflower, Broccoli, Cabbage, Brussel Sprouts provide include antioxidants and anti-inflammatory properties.  Their flavour is second to none, plus they're packed with fiber, helping with digestion and satiety.
Cauliflower can be cooked and eaten in so many ways, steamed, sautéed, chopped and roasted but, I always find it disappointing to chop up such a beautiful flower. So here's a dish, in Tomato and Herb Baked Cauliflower, that you can do that celebrates the cauliflower in it's whole!
The Cauli goes amazingly with other roast veggies and roasted or grilled meat. I didn't eat it all at once so it was delicious through my salads for lunch during the week. You could even turn it into a dip or soup! If you like this – also check out my Spicy Baked Cauliflower!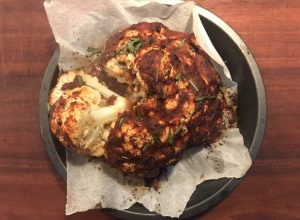 Recipe Type: GF, DF, Paleo, V
Ingredients:
1 full cauliflower, leaves removed, stem chopped down to base (so that it sits flat).
1/2 C Passata (tomato puree)
2 tsp chopped fresh rosemary (or 1 tsp dried)
2 tsp chopped fresh oregano (or 1 tsp dried)
1 clove garlic, crushed
sea salt and pepper to season
Method:
Preheat your oven to 400F/200C and line a baking tray with baking paper.
In a bowl, mix together all the marinade ingredients with a fork (don't use a blender, it'll get to liquid-y) then fully coat the entire cauliflower, including underneath – use your hands.
Place the cauliflower onto a lined baking tray and pop into the oven for 45-60 minutes, depending on the size of your cauliflower.
Sprinkle some fresh chives or parsley over the top to serve.