My all time favourite vegetable has got to be Eggplant. It's just such a versatile vegetable; my favourite is to have it cut into thick 'chips' and baked with fish on a friday night. But I also love it as eggplant pizza, roasted, curried, grilled, fried, and baked into an Eggplant Parmigiana!
A lot of people often recoil in disgust at eggplant saying, "Oh but it's so rubbery" or something like that. Well, once you know how to work with Eggplant, let me tell you, you will come to love it as much as I do!
This recipe is inspired by a recipe from Jo Whitton & Fouad Kassab's book Life Changing Food which has an abundance of delicious recipes in it and I highly recommend you pick a copy up for yourself!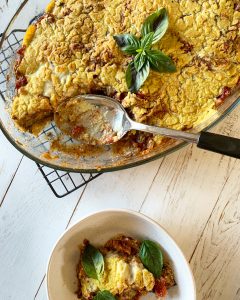 Serves 4-5 as a main, 8-10 as a side.
Time – 60-90mins
Ingredients:
Eggplant
~800g eggplant (approx 2 medium eggplants), sliced into 5mm thick slices (you can slice them lengthways so they're round or across so the slices are bigger, it doesn't really matter)
EVOO for frying
Red Sauce
1 can organic diced tomatoes (+ dash water to rinse)
1/2 cup passata
1 brown onion, diced
3 cloves garlic, minced
100g organic, preservative free ham, chopped into small pieces (omit for vegetarian, or replace with asparagus/sun-dried tomatoes or something yum like that)!
1 cup button mushrooms, quartered
2 T mixed herbs (if you have fresh herbs like parsley, basil, oregano then a handful of these would go perfectly too)
1 T EVOO
juice from 1/2 a lemon
salt and pepper to season
White Sauce
2 C Almond, Soy or Coconut Milk (either homemade or from a carton – I love Pureharvest)
2 T Agar Agar (or Organic Gelatine if not vegan)
3 T savoury yeast flakes
1 t garlic powder
1 t onion powder
1 egg (optional – helps with mouthfeel texture and thickening)
salt and pepper to season
Method:
Eggplant
Spinkle about 2 tsp salt over the eggplant slices and place in a colander to allow some moisture to draw out for 30mins. Rinse well. (you can prepare red and white sauces while waiting).
Heat the EVOO a large skillet on medium heat. Add slices to the pan in a single layer and grill until golden on both sides. You'll need to do these in batches and may need to add more oil as you go.
Spread the cooked eggplant slices evenly around the bottom of a large casserole dish.
Red Sauce
Place the EVOO, onion and garlic into a medium saucepan over medium heat and fry-off for 3 minutes.
Add ham and mushrooms and continue to fry off until mushrooms begin to 'wilt/reduce'.
Add the tomatoes, passata, mixed herbs and lemon, simmer for 15 minutes. Season with salt and pepper.
White Sauce
Place all ingredients into a small saucepan, simmer over a medium-low heat while whisking for 8-10 minutes until thick and smooth.
Assembly
Preheat oven to 180deg C
Pour the red sauce over the eggplant slices in the casserole dish, spread out evenly.
Do the same for the white sauce (on top of the red sauce).
Optional – if you're not against a little cheese then sprinkle some grated vintage cheddar or parmesan on top.
Bake uncovered for 30 minutes.
Serve with some freshly chopped basil and parsley leaves