One of my very good friends in college, Alice, used to make this Orange & Almond Cake for us once in a while when we'd have a 'floor supper'. I asked her recently for the recipe because I thought it might be a nice 'healthy cake' to have for work snacks and breakfasts… Then I saw that the recipe used 1.5 cups of sugar! Wow!
I decided to try making the cake exactly the same as the prescribed recipe but just ditched the sugar altogether. Turned out totally fine! I mean, it's by no means a 'sweet' cake, but it's sweet enough (especially when I'm eating it as a regular snack/breakfast), and you could just add a couple of Tbsp of honey to the batter or just drizzle some on top when you serve yourself a slice.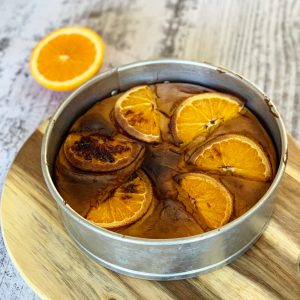 This recipe is VERY simple to make – just 4 ingredients and free from added sugar (unless you add some optional sweetener)!
If you like the Orange & Almond Cake recipe and the idea of cake for breakfast 😀 and guilt-free healthy snacks, try my Balsamic Raspberry & Apple cake – also gluten and dairy free but definitely delicious – or my Red Velvet Brownies !
Gluten Free, Dairy Free, Vegetarian, refined sugar free.
Serves ~8-12
Time 2 hr 15mins
Ingredients:
2 cups Almond Meal
3 large oranges
6 eggs
1 tsp baking powder
Optional Sweetener – Honey/Maple Syrup/Rapadura Sugar etc.
Method (for both versions):
Place 2 of the oranges (whole oranges, peel and all!) in a saucepan, just cover with water and boil for about an hour (covered). The water should reduce down over the hour.
In the meantime, grease a cake tin or line with baking paper and pre-heat your oven to 180degC (with about 10 mins to go).
Once boiled, roughly chop the oranges and place in a blender/food processor with the eggs, almond meal, baking powder and sweetener if using.
Blend until smooth.

ALTERNATIVELY, for a lighter/fluffier cake – separate the egg yolks from the egg whites. Add only the egg yolks to the blender with the other ingredients and blend until smooth. Transfer to bowl. In a separate bowl beat the egg whites until they've tripled in volume before folding into the batter until just combined.

Pour into cake tin, decorate the top with segments of cut oranges (from the 3rd orange).
Bake for about an hour until firm.
Allow Orange & Almond Cake to cool before slicing.