Something a little different for breakfast this week – Balsamic, Raspberry and Apple Cake. Yes, this cake is healthy enough and delicious enough for BREAKFAST, and of course dessert!
Join me in this celebration of Italian Balsamic vinegar, extra virgin olive oil (EVOO) and seasonal fruit. If you like this recipe, you'll LOVE these Red Velvet Brownies too!
Gluten Free, Dairy Free, Vegetarian, refined sugar free.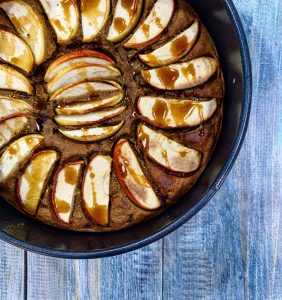 Serves ~8
Time 1 hr 15mins
Ingredients:
1.5 C oat or buckwheat flour
2 tsp baking powder
2 eggs
1/2 C balsamic vinegar (plus extra for drizzling)
1/4 C EVOO
1/2 C nut milk of choice, or water (add extra if needed to help a batter form)
2 T honey
1 C fresh or frozen raspberries
1-2 apples (use your favourite variety), sliced into segments.
Method (for both versions):
Preheat oven to 180 degC
Place flour and baking powder into a bowl and combine.
Whisk eggs, vinegar, EVOO, nut milk/water and honey together in a bowl to combine before adding to the flours and stirring to make a batter. Add more nut milk or water if needed.
Add the raspberries to the batter and gently stir in.
Pour batter into a greased and lined cake tin. Arrange apple segments in a nice formation on the top.
Bake for about an hour, or until cooked through when tested with a metal skewer.
Remove from oven. Drizzle extra balsamic vinegar over the top of the cake while it is still in the cake tin so that it can absorb while cooling.
Once cooling, remove cake from tin and serve with vanilla coconut ice cream.