This recipe doubles as a dairy-free milk chocolate recipe as well as a chocolate ganache recipe. So you can use it for whatever occasion you like – to ice a cake or cupcakes, to make chocolate truffles, the filling for a chocolate tart or just set it in a baking tray and eat as chocolate! The world is your oyster! See the method below for details.
Did you know that chocolate is actually quite good for you? Raw cacao is packed with antioxidants, vitamins and minerals like calcium, magnesium, sulfur, copper, iron, zinc, potassium, monounsaturated fat, and vitamins E, B2, B1, B5, B3 and B9. The issue with many chocolates out there is the sugar content and addition of preservatives and emulsifiers like soy lecithin and dairy which doesn't always sit well with everyone.
I am IN LOVE with the pure 100% cacao, Changing Habits Pure Cacao Melts are the absolute bomb! The melts are literally just cacao beans ground into a paste and set into coin-sized melts that you can use as you need. They are extremely bitter though, so I find I prefer to take the edge off them a bit with some more cacao butter (fat) and/or tahini, and a little pure vanilla powder.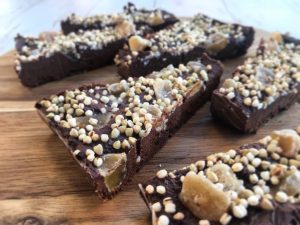 This dairy free milk chocolate is great for a little something special after dinner, or to have with your cup of tea in the afternoon (or the morning).  I have a piece most evenings after dinner!
If you like the look of this, then check out my Sugar Free Chocolate Bark, and my Sugar Free Carob Bark too!
Makes about 400g chocolate/ganache
Ingredients:
200g Changing Habits Pure Cacao Melts (literally just 100% chocolate) or good quality dark chocolate, minimum 90%.
200mL full fat coconut cream (from the can, make sure it's well combined)
2-4 T honey or natural sweetener of choice (amount depends on your level of sweet tooth).
Optional – 1 tsp vanilla powder
Optional topping suggestions for dairy free milk chocolate:
1/3 C bare ginger, diced
your favourite muesli or granola
activated buckinis
puffed quinoa
nuts and seeds
goji berries
dried fruit
coconut flakes
Method:

Melt the cacao melts in a double boiler.
Add coconut cream and honey/sweetener and mix well with a whisk.
This is your ganache mixture – you can use as you would any other ganache (as icing for a cake or cupcakes, in a chocolate tart, to make chocolate truffles, the options are endless!).
To make dairy free milk chocolate slab:
Transfer the melted mixture into a dish or baking tray that has been lined with baking paper (or a silicone mould).
Sprinkle the toppings if desired.
Place in the fridge to set.
Once set, slice into desired sized squares and enjoy. Store in an air-tight container in the fridge.