Your next meat-free Monday is SORTED, thanks to this tasty recipe for Cabbage 'Steak'! It's really a very simple concept that I love to do for an easy vegetarian meal. I'll have this regularly but change up the other vegetables/herbs/spices that I use to totally transform the dish!
If you like this then check out my Spicy Whole Baked Cauliflower!
Recipe Type: GF, DF, RSF, Paleo, Vegan, Vegetarian
Serves 1
Time  30 min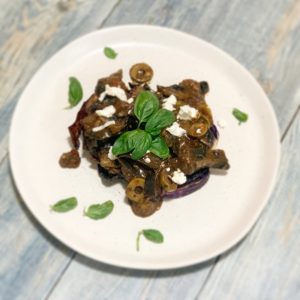 Ingredients:
For the Cabbage steak(s):
1 small head cabbage (can use red or white)
salt and pepper
optional: other herbs and spices as desired (cumin, curry powder, chilli flakes, or a more mediterranean feel with oregano, thyme, rosemary, maybe even try a mexican spice mix)
Extra Veggies and to serve:
1/2 C chopped leek
4 button mushrooms, chopped
1 C eggplant, sliced into strips
A few sliced olives (optional)
1 clove garlic, crushed
Salad greens as a side (optional)
Feta (or vegan Feta) to serve (optional)
Method:

Preheat oven to 200 degrees celsius.
Slice the cabbage in half. Lengthways, slice a 'steak' out of one half of your cauliflower. Do this multiple times (depending on how many 'steaks' you require)
Drizzle a little EVOO over the 'cabbage steak' and sprinkle herbs and spices over the 'steak'.
Place on a baking tray and bake in the oven for 20 mins.
Meanwhile, prepare your green salad in a bowl.
In a fry pan, sauté the leeks, garlic, mushrooms and eggplant until reduced and fragrant.
By this stage your cabbage steak should be cooked. Transfer the Cabbage Steak to a plate, top with sautéd vegetables, feta, fresh herbs.