Need something interesting to dish up at your next gathering? Try this dairy-free, vegan Roast Cauliflower & Green Bean Salad. Lunch leftovers are a win too! If you love this, then you'll love my whole baked cauliflower as well!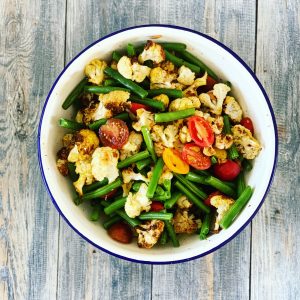 Serves 8-10 as a side
Time – about 45mins
Ingredients:
500g washed green beans, top & tailed and halved
1/2 a punnet cherry tomatoes, sliced in half
1/2 head cauliflower, separated into florets
1 T EVOO
pinch salt
1 t garam masala
Dressing
Method:

Preheat oven to 180 degC.
Place cauliflower in a bowl with the oil, salt and garam masala, toss to coat.
Spread the cauliflower out onto a lined baking tray and bake for 30mins until cooked. Remove from oven and allow to cool.
Place all dressing ingredients into a bowl and whisk together with a fork/mini whisk.
Add the green beans, cherry tomatoes and cauliflower to a salad bowl, add the dressing and toss to combine.
Serve the roast cauliflower and green bean salad at your gathering for some rave reviews or use for food prep, keeps in the fridge for ~5 days.