I don't make muffins often enough. I see friends with kids who make them all the time, and I can see why; muffins are great, easy snack options, they freeze well and can be made extremely healthy by using nutrient-dense real food ingredients including hidden veggies, nuts, fruit, herbs and spices, just like in these peach muffins.
Since starting work in a corporate environment Mondays through Fridays, I've been needing to be on the game much more with my food prep, and muffins (as mentioned before) are the perfect morning snack. As it happened, I had a boatload of extra Teff from Teff Tribe, so decided to use some of it in these muffins.
As it happens, these peach muffins are completely free from added sweetener, sweetened only with pureed peach!
For more baked goods that are great for work lunches, click here.
Gluten Free, Refined Sugar Free, Dairy-free
Serves ~10-12 Muffins
Time 45 min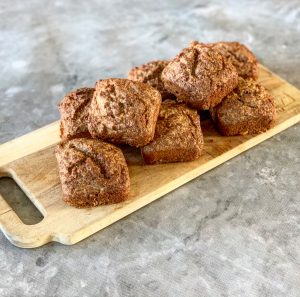 Ingredients:
2 C Cooked Teff
1 T Coconut flour
2 T Tapioca flour
2 t baking powder
2 t vanilla powder or paste
3 free range eggs, lightly whisked
1/2 C peach purée (I puréed my own fresh)
1/3 C milk/nut milk
1/3 C blood orange-infused olive oil (or light extra virgin olive oil, or coconut oil)
optional – extra chopped peaches and/or shredded coconut to decorate.
Method:
Preheat oven to 180 degC.
Grease a muffin tray, or line with baking paper.
Place dry ingredients into a bowl and combine.
Add wet ingredients and bring together into a batter.
Use a 1/3 or 1/2 Cup measure to portion out the batter between the muffin moulds in the tray.
If decorating, place decoration on top of each muffin.
Bake for about 30mins or until cooked through (test with a metal skewer).
Allow to cool before taking out of the muffin tray.
Keep in an air-tight container in the fridge for 4-5 days before freezing any remaining peach muffins.