I recently tried a passionfruit bar made by Blue Dinosaur. And REALLY liked it. So much so that I took to trying to recreate it myself.
So, here's what I've come up with, tastes almost identical, and sooooo good!
Makes ~12 balls
Time – 10 minutes
Ingredients:
1 C desiccated coconut
1/2 C almonds
1/3 C dried dates, soaked in hot water for 15 minutes
1/2 C passionfruit pulp (~3 passionfruits)
2 T coconut oil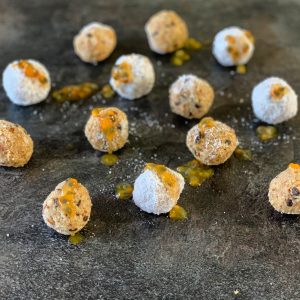 Method:

Add almonds to a food processor and blitz until course.
Add remaining ingredients and blitz until combined.
Roll into balls and coat with extra coconut if desired.