I don't know about you but I find baking a perfect way to pass time whilst in COVID-19 isolation! Plus it's a great way to incorporate Cricket powder into your diet. I hope you like these delicious Jaffa muffins (jaffa means choc-orange by the way)!
But Why Crickets?
So, crickets (yes, those little insects) are a super high in protein, as in 69% protein! Cricket protein is a complete protein, containing all 9 essential amino acids required by the body to be consumed in food.
Secondly, crickets are a fantastic source of iron, essential for transport of oxygen in the body. Gram for gram, Crickets actually have twice the amount of iron as beef! Vitamin B12, which human bodies require for healthy nerves, immune system, energy production and red blood cells is another key nutrient found in Crickets. In that respect, crickets offer a unique combination, as these nutrients (protein, iron and vitamin B12) are usually only found together in meat sources of protein (like beef, lamb, fish, pork etc.). If you struggle to stomach meat sources of protein then cricket powder can be a great option for you and help to increase these nutrients in your diet.
As a bonus, they're also incredibly sustainable, requiring less water, space (land), energy and feed to produce compared to both meats as well as legumes, lentils and grains
Want to give them a go? Here's Your Free Sample.
I've teamed up with Grilo Protein, based in Byron Bay, so you can order a FREE SAMPLE of cricket powder to try. Head to this unique website link to order yours.
I'd love to know what you think, why not try using your sample in this Jaffa Muffin recipe and let me know what you think either via Instagram or Facebook!
For more baked goods that are great for work lunches, click here.
Gluten Free, Refined Sugar Free, Dairy-free
Serves ~8 Jaffa Protein Muffins
Time 45 min
Ingredients:
1 C Almond Meal
1/4 C Tapioca Flour
1/4 C coconut flour
2 Tbsp Cricket powder
1/3 C raw cacao powder
1/3 C cacao nibs or dark choc pieces
zest of an orange
1/4 C extra virgin olive oil (can even use this orange infused olive oil)
2 drops wild orange essential oil
1 large, free-range egg
Optional sweetener to taste (1-2 Tbsp honey or maple syrup or so)
Juice of an orange or grapefruit, plus extra water to bring batter together if required.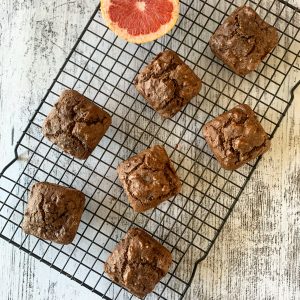 Method:
Preheat oven to 180 degC.
Grease a muffin tray, or line with baking paper.
Place dry ingredients into a bowl and combine.
Add wet ingredients and bring together into a batter.
Use a 1/3 or 1/2 Cup measure to portion out the batter between the muffin moulds in the tray.
Bake for about 20-25mins or until cooked through (test with a metal skewer).
Allow to cool before taking out of the muffin tray.
Keep in an air-tight container in the fridge for 4-5 days before freezing any remaining peach muffins.