I'm always on the look out for good quality Veggie Patties as meat-free meal options and to throw in easy work lunches. However, many of the ones I see in the store have strange sounding gums and preservatives in them. I'm also often disappointed in the amount of protein in them. So I took to whipping these simple veggie patties up from some high protein, REAL FOOD, ingredients I had in my fridge and pantry.
They turned out great and are really delish. Spice them up with your favourite herbs and spices, and serve them up whatever way you like; with a salad, in a burger, in a wrap, even just by themselves! They also freeze really well too!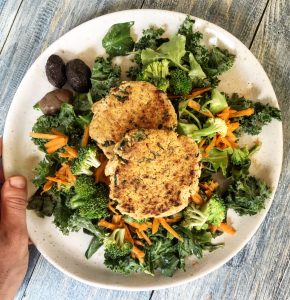 Makes about 9 patties
Time – 40-45 minutes + 1 hour chill time
Ingredients:
1 cup yellow split peas
300g firm tofu, chopped into chunks
Juice of 1 lemon
3 T Extra Virgin Olive Oil
handful of fresh herbs (I like chives, parsley and coriander)
2 T ground flaxseed
2 t ground cumin
2 t ground coriander
pinch chilli flakes (more if you like spice)
1 t paprika
Salt and pepper to taste
Alternatively – spice them up with your own favourite herbs and spices.
Method:

Cook the yellow split peas in 1.5 cups of water by the absorption method (over the stove, rice cooker or in the microwave), drain off any extra water once cooked.
Place cooked split peas, tofu chunks, lemon juice, oil, ground flax, herbs and spices into a food processor and process until well combined, scraping down the sides as needed. Alternatively you can use an immersion blender.
Take 1/3 cup amounts of the patty mixture and form into 'patties', place in the fridge for 1 hour to chill.
Heat a fry pan to medium-high heat, grease with some extra virgin olive oil. Cook the patties until browned on each side. Remove from heat once done and enjoy however you like – with a salad, in a burger, in a wrap, even just by itself!
Keep in an airtight container in the fridge for up to a week or freeze for future use.