Forget the pavlova and trifle, Gluten-Free Christmas Pudding is my all time favourite Christmas dessert. And now, I've finally made one of my own!
If you like this recipe then try my Orange & Almond Cake recipe, my Balsamic Raspberry & Apple cake – also gluten and dairy free but definitely delicious, and actually make really good breakfasts!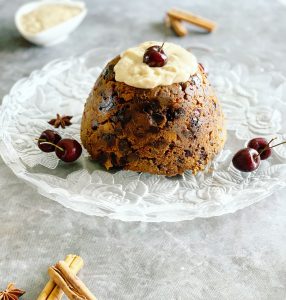 Gluten Free, Dairy Free Option, Vegetarian, refined sugar free.
Serves ~8-12
Time 6 hours, plus overnight soaking
Ingredients:
Pudding
3/4 C Almond Meal
3/4 C quinoa flour (or buckwheat, or sorghum)
1/4 C tapioca flour
1/4 C coconut flour
3 t mixed spice
4 C your favourite organic dried fruits (I used 1 cup each of sultanas, dried cherries, chopped dried apricots, cranberries)
1/2 C mixed peel
125g organic, grass-fed butter (or coconut oil for vegan)
1/2 C boiling water
1/2 C chilled water
1 C brandy (if you don't have brandy then use what you have – I used 1/2 tawny port and 1/2 whisky)
1 tsp baking powder
Brandy Cream
1 free-range egg
1-2 T sweetener (honey/maple syrup, rapadura sugar)
the creamy part of a can of coconut cream after it's been chilled in the fridge (it will separate into a creamy part and watery part)
3 T brandy (or port/whisky)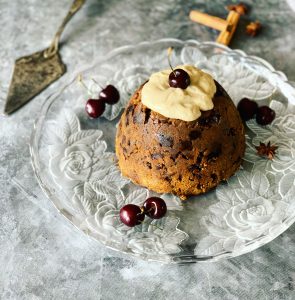 Method:
Pudding
Mix the flours and mixed spice together in a large mixing bowl. Add the dried fruit and mixed peel, mix until well combined and set aside.
In a heat-proof or glass jug, place the butter and boiling water. Mix until the butter has completely melted.
In a separate jug, pour the chilled water, stir through alcohol. Add baking soda and mix until dissolved.
Add both liquid mixtures to the dry ingredients and gently mix with a spatula until well combined.
Cover the bowl and allow to sit on the bench, at room temperature, overnight allowing the batter to thicken overnight.
The next day, half-fill a large pot, or slow cooker, with hot water. If using a pot, bring water to the boil. The pot must be large enough that your pudding basin will fit comfortably into it with room around the sides. The lid of the pot/slow cooker must also fit on top leaving no gap.
Liberally grease a large pudding basin/tin with butter. Place a piece of baking paper on the flat base of the basin, to help remove the pudding later.
Uncover pudding batter, transfer into greased pudding basin. Cut a round piece of baking paper enough to cover the top of the pudding and place it on the pudding. Place the basin lid on top, or if you don't have a lid, cover the top of the basin with a layer of foil. This is to keep the steam inside the basin to allow cooking.
Place the basin in the pot/slow cooker. Top up pot with more hot water so it reaches 1/2-3/4 of the way up the pudding basin.
Leave heat on medium, pot covered with lid (and pudding inside), cook/steam pudding for 4-6 hours. If using slow cooker, cook on high for 4-6 hours. You're looking for a gentle boil, not a rapid boil and not a slow simmer. Keep an eye on the pot throughout cooking, topping up the water when needed, as it does evaporate.
To check if the pudding is done, a skewer should be able to be inserted and removed without it getting dirty. Once done, remove from the pot and allow to cool for an hour so it can be handled.
Remove the lid and place a large flat plate over the basin, invert them together so the pudding falls away from the basin.
You can make the Gluten-Free Christmas Pudding the day before if you like. Just store the basin in the fridge overnight then reheat the next day in the same way in a pot/slow cooker.
Serve the Gluten-Free Christmas Pudding warm with brandy cream.
Brandy Cream
Make the brandy cream the day before or on the same day whilst the pudding is cooking.

Beat the egg and sweetener together using an electric hand beater, until thick and creamy, approx. 20 seconds – 30 seconds.

In a larger mixing bowl, beat the coconut cream and brandy together to soft peaks.

Pour whipped egg mixture into the cream, gently beat through until well combined. Ensuring not to over-beat. Add some gelatine to thicken if you prefer it thicker.

Leave in bowl and cover or pour into a closed jar and refrigerate until ready to use.