Who doesn't love a gorgeous after dinner mint? A piece of dark, mint chocolate has got to be one of the best ways to end an evening and wind down, don't you think? I recently tried this delicious Coconut Dream Chocolate Mint by Kitz Living Foods and was blown away! Such a delicious product, and with such simple, real food ingredients! So much so that I thought, "I reckon I can make that myself". So I did!
After a few tweaks I arrived at this divine creation; allow me to present Penny's After Dinner (Choc-Coconut) Mint! It's really easy to whip up (literally takes 5 minutes), then you just let it set in the fridge for an hour or so and you're good to go!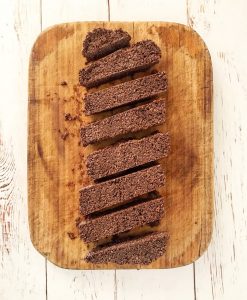 Please comment below your feedback, I'd love to hear what you think 🙂
Did you know that chocolate is actually quite good for you? Raw cacao (found in this recipe) is packed with antioxidants, vitamins and minerals like calcium, magnesium, sulphur, copper, iron, zinc, potassium, monounsaturated fat, and vitamins E, B2, B1, B5, B3 and B9. The issue with many chocolates out there is the sugar content and addition of preservatives and emulsifiers like soy lecithin and dairy which doesn't always sit well with everyone.
If you like this recipe, then check out my Sugar Free Chocolate Bark, and my Sugar Free Carob Bark too!
Makes about 15-20 serves
Time – 5 mins to prep, 1 hour in the fridge to set.
Ingredients:
2 C desiccated coconut
1/2 C raw cacao powder
1/2 C coconut oil, melted
2 T honey or maple syrup (or sweetener of choice)
3-4 drops peppermint essential oil
Method:

Simply place coconut and cacao powder into a large bowl and stir to combine with a spoon.
Add the coconut oil, honey and peppermint essential oil and mix well.
Transfer to a lined baking tray or silicone mould and spread out evenly.
Place in fridge to set for about an hour.
Remove, slice and enjoy!
Store in the fridge in an air-tight container.