ANZAC Biscuits are something that I really love, and identify with as an Australian; each year commemorating those who have fallen in defence of our beloved country. Last year I made this version. But I thought I'd change things up this year for something a little different…
This year I've teamed up with 180 Nutrition to bring you these Superfood ANZAC Biscuits, packed with nutrients. Have you tried 180 Nutrition Protein Superfood before? I mostly use it in smoothies but I also love to use it in baking, pancakes, waffles, muffins, soups and more.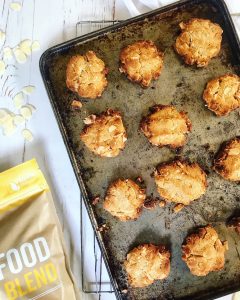 The reason I love it is because it's a 100% natural product – no chemicals, fillers, stabilisers, artificial sweeteners. The business is also a local Aussie business, and I always like to support local.
The ingredients are simply:
Pea Protein Isolate (there's also a grass-fed whey version available)
Organic Flaxseed,
Almond Meal,
Sunflower Kernels,
Organic Coconut Flour,
Organic Sesame Seeds,
Chia Seeds,
Psyllium Husks,
Stevia.
(The chocolate flavour also has raw cacao)
I don't know about you, but when I make a smoothie, I'm wanting to put all of those things in there anyway, so 180 Vegan Superfood just saves me the time haha!
Head over to 180 Nutrition to check it out!
So this year for the ANZAC biscuits I decided to:
Use 180 Nutrition Vegan Protein Superfood instead of almond meal/other flours,
Keep the desiccated coconut, because it's DELISH,
Swap rolled oats out for flaked almonds to make the biccies Gluten-free.
HOWEVER I went back to using butter and golden syrup for a more traditional flavour. You can of course use coconut oil instead of butter for vegan/dairy-free. And swap golden syrup for Maple or Honey if you prefer.
I also added a little Maca which only adds to the delish caramel flavour.
WIN
You can also head over to my Instagram Page to enter to win a 600g bag of 180 Nutrition Vegan Protein Superfood and a 500g bag of 180 Nutrition Raw Peruvian Maca (April 2018 only)

Recipe Type: GF, DF option, V option, Primal
Serves ~12 cookies
Time 20 min
Ingredients:
1/2 C desiccated coconut
1/2 C flaked almonds (or rolled oats if not Gluten free)
90g butter (or coconut oil), melted
1 T golden syrup (use honey or maple syrup for a sweetener that's not based on cane sugar)
1 t gluten-free baking powder
Method:
Preheat a fan-forced oven to 180deg C and line a baking tray with baking paper.
Mix dry ingredients (except baking powder) together in a bowl until well combined.
Mix melted butter and syrup together in a separate smaller bowl.
In another small bowl or glass, mix 1.5 T boiling water with the baking powder to combine.
Add all wet ingredients (butter/syrup and baking powder/water) to dry and bring together with a spoon, and ultimately your hands!
Add a little water to the mixture if it seems like it's too crumbly (won't form into balls/biscuits). This happens sometimes depending on the different seasons/batches of the natural real food ingredients we're using here.
Form the mixture into balls then flatten out on a lined baking tray, imprinting the top of each with a fork.
Bake for 10 mins for softer biscuits, or 15 mins for crispy biscuits.
Removing and allow to cool.
Store in an air-tight container in the pantry for a few days before moving to the fridge if not finished!