I used to find that beetroot would always dry out when I tried to roast it in the oven. And then I leant this trick from my good friend Zuzia (thanks Zuz)! Now every time I make roast beetroot, it's perfectly moist, soft and buttery! 
Recipe Type: GF, DF, Paleo, V
Ingredients:
1 whole, raw beetroot
1 sheet aluminium foil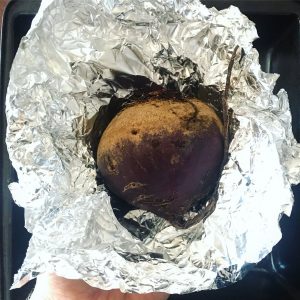 Method:
Preheat your oven to 180C.
Wrap your beetroot in the al-foil and place in the oven.
Roast for 40mins. Remove from oven and leave in the foil to allow the heat to stay in, and it'll cook a little longer.
Unwrap the beetroot and serve (peel if you like, it's easier to peel once it's cooked).