With Easter fast approaching, it seems that every way you turn in the shopping centres, all you see are chocolate eggs, bunnies, bilbies and hot cross buns.
Most of us will have a gathering at some stage over the long weekend, want to show up with a great dish to impress the masses? Try making your own Easter Eggs! People will be so impressed and talking about it for days!
You could also give these as "Easter gifts"
PS – yes it can get a little messy!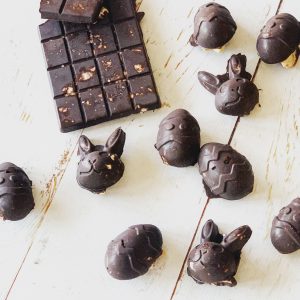 Recipe Type: GF, DF, RSF, Paleo
Makes several eggs – depending on the size of your moulds and how much chocolate you make in the beginning – just adjust as you need.
Ingredients:
1-2 cups Homemade Raw Chocolate or 100% Cacao Melts melted .

Alternatively, melt down some good quality dark chocolate (80% cacao minimum)

Flavourings of choice (see below)
Easter Egg Moulds (there are plenty going around – Kmart has moulds that are great value for money).
Flavourings (use any combination of the below, or just one or two)
shredded coconut
naked Ginger
pepitas
goji berries
peppermint essential oil
Other nuts – Macadamia nuts, almonds, pistachios
halva
licorice
freeze-dried fruit
dash rosewater essential oil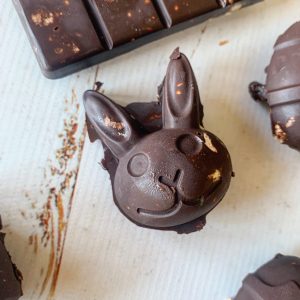 Method:
Melt down your Homemade Raw Chocolate, 100% Cacao Melts or store-bought dark chocolate.
Distribute mix-ins amongst your easter egg moulds.
Spoon the melted chocolate over the mix-ins and fill moulds to the top. Place in freezer for several hours to set.
Remove from freezer and turn out onto a plate (you may need to squeeze the moulds a bit with your hands to free the eggs from the moulds)
Store in a jar or air-tight container in the fridge. That's it!