This recipe for Plantain Granola is great because it's totally flexible to what YOU like (and what you have in the pantry)! Check out the recipe below and adjust to suit your favourite/available/seasonal nuts and dried fruit! All you need is 5-6 basic ingredients (which are flexible) and you're set.
What are Plantains?
Plantains are extremely common in the USA and South America, but are something that we don't find much of in Australia. They look like a banana but are MUCH starchier and not sweet at all – more like a potato in terms of starchiness and flavour. That's why they make such a great candidate to make chips with.
Plantains are also low FODMAP for those interested and are slowly becoming more available in fruit and vegetable stores in Australia. Similarly, Turbo Snacks have a range of plantain chip flavours (natural, garlic, chilli) and are available in several stores around Australia.
Serves: 5-6 cups of muesli
Time: 30 min
Other info: GF, DF, V, Paleo
Ingredients:
1 x 45g packet Naturally Sweet Plantain Chips
1 C walnuts (or your favourite)
1 C cashews (or your favourite)
1/2 C dried cranberries (or your favourite dried fruit, I also like freeze-dried fruit too)
1 T honey
1 T coconut oil, melted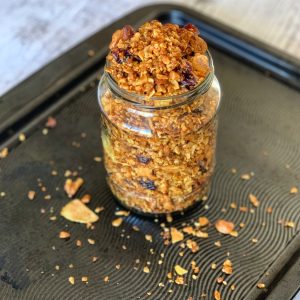 Method:
Preheat oven to 180degC
In a food processor, pulse the walnuts and cashews just to reduce the size of their pieces – you don't want to blitz them into a flour/meal.
Add nuts to a mixing bowl with the cranberries. Add the honey and coconut oil and combine so the nuts are well coated.
Transfer to a lined baking tray and spread out evenly. Bake for 10mins then stir the mixture, return to oven for another 10mins or until mixture is evenly golden.
Remove from oven, allow to cool and place in a clean bowl.
While the plantain chips are still in the packet, crush them up with your hands (just enough to reduce piece sizes a bit, but you don't want really small pieces).
Add to cooled & roasted nuts and toss to combine.
Store plantain granola in a glass jar