Add this Crispy Spiced Tofu with Spiced Cauliflower and Broccoli to your repertoire and you'll never get sick of meat-free Mondays again! Seriously, this recipe has got me making a batch every week at the moment. I love how easy and versatile it is to cook and eat – sometimes I'll have it as a platter with a dip (like mayonnaise or hummus), other times I just mix it all together with some green leaves and make a salad like below.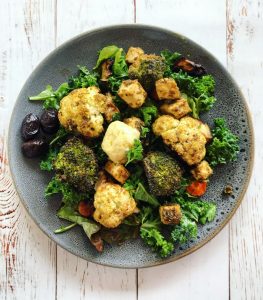 And the flavours only get better over time! Try the spiced tofu, cauliflower and broccoli cold the next day with some salad, you won't regret it!
I used Pickld spice blends in this recipe for a couple of reasons. Firstly, they taste absolutely divine! You know how sometimes you attempt to make a spice blend at home but for some reason it just doesn't taste quite right? That's why I love Pickld, they've nailed the quantities and proportions to make truly delicious flavour combos. Secondly, in addition to the spices, Pickld spice blends contain fermented and roasted lentils, dried mango, dried moringa and chia seeds making them not only an exceptional prebiotic and great for gut health, but also add to the protein intake for plant-based dishes! Perfect for meat-free Monday!
Recipe Type: GF, DF, V
Serves: 3-4
Ingredients:
For the Crispy Tofu
500g firm tofu, cubed
1 T Potato Starch (or arrowroot/corn starch)
1 T Pickld Cumin seasoning
1 T Pickld Sesame seasoning
1 T Extra Virgin Olive Oil
For the Baked Cauliflower & Broccoli
about 4 cups of broccoli and cauliflower florets (a mixture of both)
1 T Potato Starch (or arrowroot/corn starch)
1 T Pickld Cumin seasoning
1 T Pickld Sesame seasoning
2 T Extra Virgin Olive Oil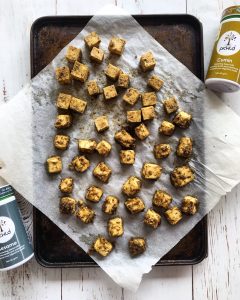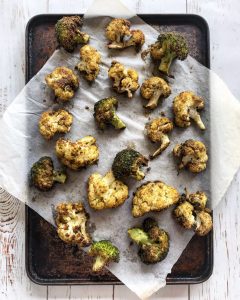 Method:
Preheat your oven to 400F/200C and line 2 baking trays with baking paper.
Place the cauliflower and broccoli in a large bowl, sprinkle over the seasoning, starch and oil.
Use your hands to toss the vegetables so that they are evenly coated with oil, seasoning and starch.
Transfer to one baking tray so that they are evenly spread over the tray.
In the same bowl, place the cubed tofu with associated seasoning, starch and oil. Toss with your hands as you did the vegetables.
Transfer to the other baking tray and spread out evenly.
Place both trays in the oven and bake for 25 minutes or until golden and crispy.
Serve with your favourite mayonnaise or spiced coconut yoghurt as a dipping sauce.
I also love to put the roast cauliflower, broccoli and spiced tofu through my daily lunch salads!