Don't want strange nasties rubbed all over your skin? Neither do I. So I've recently been experimenting with homemade body products from Body Butter and Body Scrub to a DIY Sea Salt Hair Spray. My friend Erin over at the Herb Spa makes almost all of her own skin and hair care items so I've been picking her anti-aging brain a lot!
I was after something a little 'lighter' than my body butter for summer, as the body butter is quite oily, I also wanted something a little more specific for my face. So I jotted down many notes from Erin, researched many DIY face cream recipes. And also looked at different superfoods that are known to have anti-aging properties.
In my research I came across medicinal mushrooms! And I was blown away at the properties they offer. From immune support, brain health, nootropic effects, anti-bacterial properties as well as anti-aging properties! I've been using the Lion's Mane mushroom in the mornings to help me focus while I work. While Tremella and Reishi are great for anti-aging (both when ingested as well as applied topically).
So I've included them in this face cream recipe!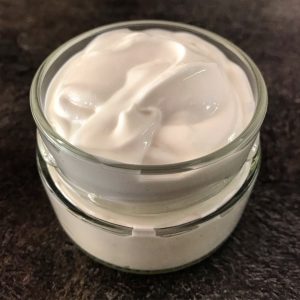 Makes about 1 Cup face cream
Time – about 30mins
Ingredients:
30g Shea Butter (you could also use cacao butter)
24g Jojoba Oil (you can also use macadamia oil, liquid coconut oil or sweet almond oil)
14g vegetable based emulsifying wax
120g filtered water
6g potato starch (you can also use arrowroot or tapioca)
1 t Tremella medicinal mushrooms
1 t Reishi medicinal mushrooms (these have a powerful anti-aging effect but have an earthy colour and smell so you may wish to omit them).
Optional: essential oils can also have an anti-aging effect, and provide a nice scent! Lavender, Frankincense, Tea Tree and Peppermint are some of the anti-aging EOs I like to put in my face cream.

Method:

Melt the shea butter, jojoba oil and emulsifying wax together in a double boiler.
Allow to cool to about 40-45 degrees celsius.
Heat the water to about 40-45 degrees celsius (either on the stove, kettle or microwave).
Basically, the oil mixture and water need to be the similar temperatures.
Transfer the water to a measuring jug or something that will be easy to use an immersion blender in. Add the potato starch and mushrooms to the water. Then add the oil mixture.
Use an immersion blender to combine the oil and water mixture, it should emulsify into a beautiful face cream.
Transfer the face cream to a jar and place in the fridge for a day. After 24 hours, stir through any essential oils you wish to use.
You need to store the face cream in the fridge as there is no preservative or anti-bacterial agent in there (bacteria will grow as the cream is based in water). If you wish, you can use a natural preservative and then not store in the fridge. Living in warm Brisbane, it's actually quite nice to keep it in the fridge as the cream is beautifully cooling when you apply it.
Use daily as a beautiful face cream!