Vegan Sausage Rolls often leave a lot to be desired as far as I'm concerned, both from a nutritional perspective as well as a taste/flavour perspective. Regularly crumbling and falling apart and frequently lacking flavour. Commercial vegan sausage rolls are often filled with  fillers and binders, making them less attractive to a real food nutritionist like myself. The key thing I wanted to get out of these sausage rolls was to make them a good source of protein as well in incorporate some veggies. I had some canned jackfruit lying around so used that,  but you could also use other veggies of choice – suggestions below.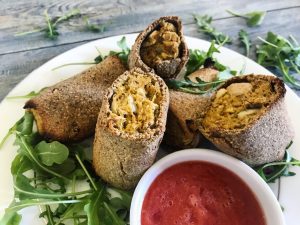 Recipe Type: GF, DF, RSF,  Vegan
Serves 4-6 (with other things as a side)
Time  50 min
Ingredients for the Vegan Sausage Rolls:

1 batches of gluten free pastry
500g can jackfruit (300g once drained), drained and rinsed (about 1.5 cups, alternatively use chopped carrot, zucchini or eggplant)
300g firm tofu, roughly chopped
1/2 an onion, diced
2 cloves garlic, minced
2 T psyllium husk
1/4 C passata sauce or pumpkin puree
salt and pepper to taste
Flavour options
add a couple Tbsp of your favourite curry paste
your favourite mixed dried herbs
a delicious pre-mixed spice mix (Moroccan, Mexican, Mediterranean etc.)
Mustard
Chilli
In this recipe I used a tasty Butter Chicken dried spice mix.
Method:

Prepare your gluten free pastry per instructions. Roll-out between two sheets of grease-proof paper until it's about 1/2 cm thick.
Preheat oven to 180 degrees celsius.
Place the tofu and jackfruit in a food processor and process until well combined. Add all remaining ingredients except the pastry and pulse through to combine, it's ok if it's still a bit chunky.
Lay the rolled pastry out on your bench to work with. Form the sausage roll mixture into a sausage along one edge of the pastry, all the way along (you may not use all the mixture, that's ok, there'll probably be left over pastry you can use for the rest of the mixture).
Carefully pick up the edge of the pastry and roll so that you have about a 1cm overlap of pastry. Trim the rest of the pastry and pinch the the overlap together. Repeat for the rest of the sausage roll mixture & remaining pastry.
Cut the length of sausage roll into individual pieces of a desired size and carefully transfer to a baking tray lined with baking paper. Bake for 25mins or until pastry is golden.
Serve with some homemade tomato sauce and vegetable sides of choice.