How GORGEOUS does the red and green in this tasty little number look? I think I might coin this tart my "Christmas Tarte Tatin" thanks to it's festive colours, but tomato tarte tatin when I want to eat it throughout the year lol.
This would go perfectly as a Christams morning breakfast, or as a starter for Christmas lunch or dinner. Jazz it up by adding some olives or smoked salmon as well, whatever floats your boat.
Tomato Tarte Tatin (or upside down tarte) is SO simple to make, you simply put the veggies in a pan, put the pastry on top and bake. Then flip it up to produce your tarte! So easy! Check out the instructions below.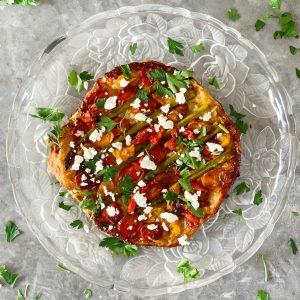 Makes 1 Tarte (Serves 4 as a starter)
Time 30mins
Ingredients:

500g cherry tomatoes (you can use all red, or a mixture of some yellow and orange as well, you could also use chopped large tomatoes as well)
5 Asparagus spears
2 T rapadura sugar
2 T Balsamic Vinegar
One sheet of frozen Puff Pastry or gluten-free homemade pastry
1 handful chopped parsley
Goat's Cheese for crumbling on top.
Method:

Preheat oven to 200°c. Allow pastry to thaw slightly then trim to a 24cm round.
Place a 22cm ovenproof frying pan over medium heat. Add sugar and 1/4 cup water. Stir once, then cook for 5 minutes or until sugar turns to caramel. Carefully add vinegar and stir to combine.
Arrange tomatoes and asparagus in the caramel in a single layer and season with salt and pepper. Lay pastry over and tuck edges down into pan. Cut three slits in centre of pastry to allow steam to escape.
Bake for 30 minutes or until pastry is golden. Remove from oven and stand for 5 minutes.
Place a serving plate over pan. Hold firmly against pan and carefully flip pan over to turn tarte out. Serve garnished with parsley and crumbled goats cheese
Can I get a hands up who's going to make a Tomato Tarte Tatin this festive season?