There are many schools now that have implemented a complete ban on children bringing nuts to school for snacks (due to risks of allergies being triggered amongst other children). I'll leave my views on this aside for now. It means that parents have to be a little more creative when it comes to snacks. That's where me, and these cookie dough bliss balls come in!
I made these bliss balls using Tigernuts!
"But you said these bliss balls were nut free?" I hear you say…
They are! Tigernuts aren't actually a nut at all, but a small tuber (the same family as sweet potatoes and yams) that grows under the ground. So really, they're more of a vegetable. Tigernuts are about the size of a hazelnut and have a naturally sweet flavour. Their macronutrient breakdown is slightly different to most nuts through; with less protein but higher in natural fats, starch and fibre.
As they're naturally sweet, I found I didn't need to add any sweetener to this recipe but feel free to add a little stevia if it you feel you need to. For more bliss balls recipes click here or download my bliss balls ebook for free (just sign up for my newsletter in the header bar at the top of the page).
Recipe Type: Nut-Free, GF, DF, RSF, Paleo, Vegan
Makes about 14 Bliss Balls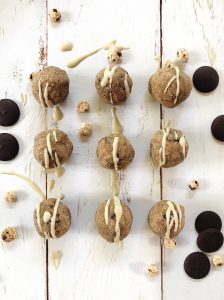 Time  10min
Ingredients:
1 C tigernut flour (just ground tigernuts)
1/3 C natural protein powder
1/4 C dark chocolate chips
1 T mesquite powder (optional)
1 T maca powder (optional)
1 t vanilla extract or powder
1/4 C melted cacao butter (or coconut oil)
1/4 C tahini
up to 3 T water
1 pinches sea salt
Optional (if you want to make them a little sweeter) – 1/2 tsp stevia, or replace some tahini with some honey.
Method:
In a mixing bowl combine the dry ingredients and mix well.
In a separate bowl, combine cacao butter, tahini and vanilla (if using paste) with a spoon.
Add the wet to the dry mix and combine with a wooden spoon or with your hands until well combined.
Test the mixture to see how well it holds together, if it's still a bit dry and crumbly add 1 T water, mix and test again. Add another T water if needed (repeat until it holds together in a bliss ball well).
Once the mixture comes together use your hands to give the mix a bit of knead to ensure everything is well pressed together.
Now make your balls by breaking off pieces of the dough and forming into balls around the size of a 20c piece.
Store the cookie dough protein balls in the fridge until they are nice and firm. These balls are best eaten when cold to maintain their fudge like texture.