Roast Duck is really similar to roast chicken, except it's a slightly fattier, more flavourful bird that pairs beautifully with the tartness and sweetness of pomegranate and raspberries! Try this roast duck recipe for Christmas, or any other special dinner party.
If you like this then check out my classic Roast Chicken 🙂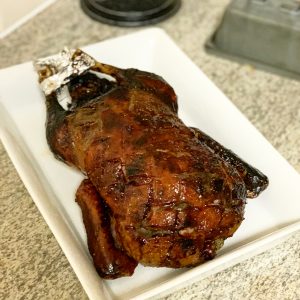 Gluten Free, Dairy Free, refined sugar free.
Serves ~6
Time 2.5 hours
Ingredients:
Baste/Sauce
1/3 C raspberries (fresh or frozen)
1/4 C pomegranate juice
1 C bone broth/stock
1-2 T tapioca to thicken
salt and pepper to season
Stuffing:
2 large potatoes, grated
1/4 C coconut flour
3 T pomegranate juice
1/2 C raspberries (fresh or frozen)
2 cloves
salt and pepper to season
Method:
Preheat your oven to 190 degrees celsius
Prepare the stuffing by placing all stuffing ingredients into a bowl and combining either with your hands or a spoon. Stuff the duck with stuffing.
Use a piece of string, or folded al-foil to tie the duck's legs together.
Score the duck's fat on the breast using a sharp knife in a criss-cross pattern.
Season the outside of the duck (both top and bottom with salt and pepper.
Place the duck, breast-side up, on a rack then onto a baking tray. Add 1-2 cups of water to the tray (so that the water is about 1-2cm deep (this helps collect the duck fat, without it burning or sticking to the bottom of the tray).
Cook the duck for 45mins. Remove from oven, flip the duck and bake for another 45mins.

While the duck is cooking, prepare the baste/sauce by placing all ingredients into a small pot over medium heat and stirring together. Bring to a boil then reduce heat to simmer. Keep simmering until the stock is reduced.

Remove the duck from the oven again, flip it back over so the breast is facing up. Use a basting brush to bast the entire top side of the duck with the sauce. Return to the oven for 10 minutes.
Repeat step 8 two more times (you can even do it an extra time as well if you like).
Remove from the oven for the final time and allow to rest for 10-15mins before serving with roast veggies/salad of choice.