In between housesitting through Europe, I've been fortunate to have family, friends and friends-of-friends to stay with and visit from time-to-time. One way I like to say "thank you for having me" is by cooking a meal for the family.
This Roast Chicken has featured several times during my travel. It's EASY, tolerance-friendly, affordable, DELICIOUS and perfect for socialising (just prepare and place in the oven and socialise while it's cooking).
At home it's perfect for all occasions – a winter warmer, Sunday night dinner, I've even done it on on the BBQ in the Summer! Plus left overs make for great lunches and dinners in the following days.
Recipe Type: GF, DF, RSF, Paleo
Serves 4-8 (depending on the size of the chicken and the hungriness of the diners)
Time  90min – 2hours
Ingredients:
1 x whole, organic, pastured chicken (take note of the weight for roasting time)
3 cloves garlic
salt, pepper, zest of orange or lemon
1 orange or lemon
Your favourite vegetables for roasting (I love pumpkin, beetroot, eggplant, onions, zucchini)
Your favourite salad or steamed greens (I like a simple greens salad with some steamed broccoli and cherry tomatoes through it)
Stuffing
zest of 1 orange
juice of 1/2 orange
1 small sweet potato, grated (can also use regular potato, carrot, turnip, broccoli stalk etc.)
1/2 an onion, diced (leek is also delicious)
2 cloves garlic, crushed
1/2 thumb ginger, grated
1 small chilli, deseeded, sliced
1/2 C shredded coconut
1 T EVOO
salt, pepper to taste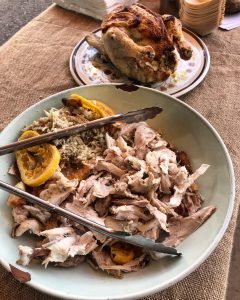 Method:
Take chicken out of the fridge, set on a plate, pat dry with paper towel (inside and out) and allow to come to room temperature for 30-60min before beginning preparations.
Preheat oven to 180 degC
In a bowl, prepare the stuffing by combining all stuffing ingredients with your hands.
Stuff the chicken with the stuffing and tie the legs together with cooking string or a skewer.
Using a sharp knife, make some holes in the flesh of the chicken breast, back and thighs and insert the extra cloves of garlic into the flesh.
Slice the lemon or orange into slices and insert slices under the skin of the breasts and thighs.
Season the skin (top and bottom) with salt, pepper and zest.
Smear a roasting dish with a bit of EVOO or butter and place the chicken on the dish (if you have a roasting rack then use that but it's not necessary). Cover with al-foil.
Roast for 25min per 500g that the chicken weighs or until the juices run clear when you slice the meat.
For the last 45mins, add any veggies that you want to roast (if you want to roast any). You can place them in the same dish as the chicken, or on a separate tray.
Serve with whatever you like! Salad, steamed greens, coleslaw, roast veggies, wine!
The stuffing turns out soooo goood as it absorbs all the juices and flavours from the chicken, and vice versa!
Left overs are great in salads during the week too.