What happens when you have an abundance of random flours and bits and pieces in your pantry? Well, I had a hankering for chocolate muffins, so I basically just 'winged it' to get them to a consistency that seemed like muffin batter. I call the result, "Clear out the Pantry" Chocolate Protein Muffins!
These Chocolate Protein Muffins are also gluten free, dairy free and refined sugar free!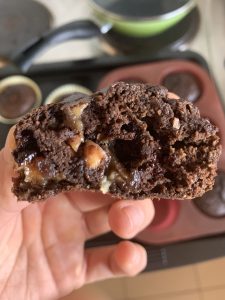 Serves ~10 Muffins
Time 30 min
Ingredients:
1/2 Cup natural hemp protein powder + 1/2 Cup cacao powder (or 1 Cup Organic Hemp Plus)
1/4 C coconut flour
1/4 C almond meal
1/4 C tapioca flour
1 t baking powder
2 organic, free-range eggs whisked
1 banana, mashed
3 T macadamia oil
1 tsp vanilla extract
1/2 t green leaf stevia
1 Cups water (I just added enough ot make a batter)
1/2 Cup chopped cacao melts (or even more for a super decadent treat, I actually also chopped up a random choc-peanut snack bar that I had and put that in too)
Method (for both versions):
Preheat oven to 180 degC
Place dry ingredients into a bowl and combine.
Add wet ingredients (except the water) and cacao melts and bring together using a spoon. Add water bit by bit until well combined into a batter type of consistency.
Divide evenly between 10-12 greased or lined muffin trays (or mini muffins if you like).
Bake for 20 minutes or until just cooked.
Serve warm, and for something totally drool-worthy, with peanut butter!
Will keep for 4-5 days and can be frozen.