Who needs to go out for Brunch when you can whip up a fabulous-looking and fabulous-tasting dish like this? Save money and stay healthy with my Pumpkin Rosti, Pesto Mushroom, Greens and Free-Range Bacon!
I'm a massive pumpkin fan myself, but I know it's not for everyone. So you can easily change the pumpkin in the rosti recipe to sweet potato, regular potato, carrot, turnip, swede, basically any kind of root vegetable. Also, serve with an egg for a vegetarian variation.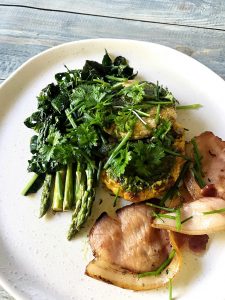 Recipe Type: GF, DF, Paleo
Serves 2
Ingredients:
For the rosti:
1 C grated pumpkin
1 egg
1/4 C flour of choice (teff, buckwheat, quinoa, tigernut, almond meal etc.)
optional – herbs, spices to season as desired
The sides:
2 large field or portobello mushrooms
6 spears asparagus
handful tuscan kale chopped
4 rashers free-range, nitrate-free bacon.
2 T homemade pesto
Method:
Preheat oven to 180degC.
Remove mushroom stalks, place mushrooms onto a baking tray, stalk-side up. Bake for 10 minutes. Remove from oven.
Place 1 T pesto onto each mushroom and spread around, return to the oven for a further 10 minutes or until cooked through.
Place rosti ingredients into a bowl and mix well to combine. Form in to 2 rostis (like burger patties).
Heat a little EVOO in a pan to medium heat. Once the pan is hot, place the rostis on the pan and grill until browned on one side then flip. Once both sides are cooked, remove from pan and place on plates.
In the same pan, fry-off the asparagus and bacon until cooked through. Add the Tuscan kale at the end so that it just wilts.
Assemble your plates with the pumpkin rosti, baked mushroom, asparagus, kale and bacon.
Optional: Drizzle with EVOO, squeeze of lemon juice, extra pesto, fresh herbs.
Enjoy your cafe-style brunch or lunch in the comfort of your own home!