I'm a nutritionist, it's true, but I am also absolutely ALL about balance! And I certainly enjoy an alcoholic beverage and treats for dessert once in a while. One treat that I like to whip up in winter or around Christmas time (because of the spices involved) is this Prunes in Spiced Port Syrup recipe. The mulled wine-type flavours just get me every time and are the perfect treat to curl up on the couch with after dinner with a chick-flick or good book!
Recipe Type: GF, DF, Paleo, Vegan
Time  30 min
Ingredients:
600g Organic Pitted Prunes
1 vanilla bean
1 cinnamon stick
1 t freshly ground nutmeg
3 whole cloves
3 strips orange rind
2 C water
1.5 C Tawny Port
(optional, I don't use this, but my palate is different from others) 1/4 C rapadura or coconut sugar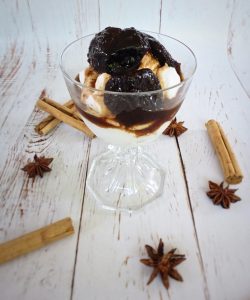 Method:
Place all ingredients EXCEPT the port and prunes into a pot. Bring to the boil on the stove.
Add the prunes and simmer for about 15 minutes, stirring every few minutes.
Add the Port and stir through. You can either continue to simmer for 5 minutes (this will cook-off the alcohol but help reduce the mixture) or remove from the stove and allow to cool.
You can either remove the whole spices now, or leave them in which will allow the flavours to continue to infuse during storage.
Portion into sterilised glass jars to preserve as you would jam. Or, just store in a glass jar in the fridge – it will last several weeks, if not months.
I love to serve Prunes in Spiced Port on coconut ice cream or coconut yoghurt with a drizzle of the syrup on top too!