It's starting to cool down here in Brisbane (although I'm sure my Victorian friends will inform me that I need to suck it up lol) which means it's time for warming, comforting desserts like crumble!
Ugh. Crumble. Who doesn't love a good crumble? Apple, of course, is the traditional kind, but to be honest, I've always prefered pears to apples, hence why I've use pears here. I also had about a kilo of frozen raspberries in the freezer, so raspberries went in too! You could use any fruit you like though, just use whatever is in season.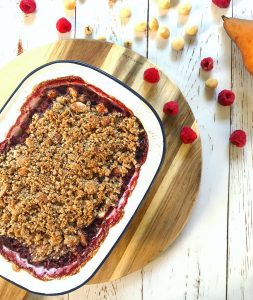 PLUS, aside from the fact that crumble is a gorgeous winter dessert; when you make 'no-added-sugar' versions like this, it's PERFECT for breakfast and snacks too!
Recipe Type: GF, DF, RSF, V, Paleo
Serves 6
Time  1.5 hrs
Ingredients:

2 medium pears, de-cored and sliced into long, thin slices.
2 C fresh or frozen raspberries (you can also use strawberries or your favourite berry)
1/2 t cinnamon
1/4 t nutmeg
1/2 C teff flakes or oats or shredded coconut
1/2 C tigernut flour or walnuts/bukinis/pecans/brazil nuts blitzed into a flour
1/2 C roughly chopped almonds or macadamia nuts (or a mixture)
2 T coconut oil or butter
1 T honey

Method:

Preheat oven to 160 degrees celsius.
Place the sliced pears into the bottom of a small casserole dish so that they're evenly spaced out.
Sprinkle the raspberries/berries evenly over the top of the pears cover with a lid or foil and cook for 20 mins.
Place the remaining ingredients into a bowl and mix together with your hands. Alternatively, blitz together in a little food processor. This is your 'crumble' component.
Remove the casserole dish from the oven. Turn oven up to 180 degrees celsius.
Remove the cover from the casserole dish. Sprinkle the crumble mixture evenly over the top. Return dish to the oven, UNcovered for another 20 mins or until the crumble is golden in colour.
Serve with your favourite condiment – coconut yoghurt, coconut cream, ice cream, custard.