Another meat-free Monday is SORTED, thanks to this tasty recipe for Okonomiyaki! Okonomiyaki is a Japanese dish that is basically a big cabbage pancake (or fritter). I love to add mushrooms and spring onions as well and top with some miso baked veggies and/or bacon (obviously not meat free then).
If you like this then check out my Spicy Whole Baked Cauliflower and my recipe for Cabbage 'steak'!
Recipe Type: GF, DF, RSF, Paleo, Vegetarian
Serves 2
Time  30 min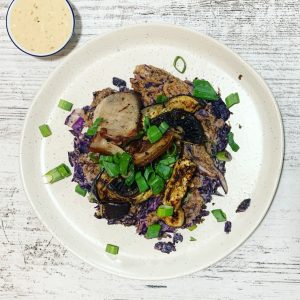 Ingredients:
For the Okonomiyaki:
about 2 cups shredded cabbage (red or green)
2 spring onions, white bits only, chopped
1 T tamari sauce
1 t minced garlic
1 t minced ginger
1 small red chilli, deseeded, sliced (optional)
4 eggs, beaten
1/3 C coconut flour
Extra Veggies to serve/top:
Green parts of 2 spring onions
4 mushrooms
1 eggplant, sliced into chunks
2 rashers bacon (optional)
Vegetable Marinade
1 t miso paste
1 t honey
1/2 t minced ginger
1/2 t minced ginger
1/2 small red chilli, deseeded, chopped
2 t lemon or lime juice
Method:

Preheat oven to 200degC.
In a small bowl, whisk together the vegetable marinade ingredients. Then toss through the vegetables in a larger bowl to coat. Spread vegetables out on a lined baking tray and bake for 20mins or until cooked. Remove once cooked and set aside.
In a mixing bowl, whisk together the eggs, tamari, garlic, ginger, chilli, coconut flour. Add cabbage and spring onions and combine well with a spatula.
Heat a little coconut or sesame oil over a fry pan and once at medium heat, add 1/2 the batter to the pan. Cook as you would a fritter or pancake, flip and cook the other side. Repeat for the rest of the batter.
Serve topped with miso roast vegetables, optional grilled bacon, chopped green parts of spring onions.
I also like to serve with some fiery mayonnaise.