Who doesn't love a good Mexican Feast? I just love the herbs and spices used in Mexican cuisine, the way there's chilli and spice but it's mellowed with cinnamon, cumin and coriander! Probably my first introduction to Mexican food would have been Nachos, well at least an Australian-ised version of Nachos anyway. I still love making them at home, and they're always a crowd pleaser when I have guests over, plus they're super easy to cater for different dietary requirements.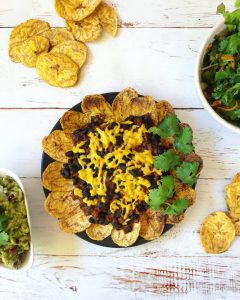 This is my basic Nachos recipe and this time I used Turbo Snacks Plantain Chips (chilli flavour) instead of corn chips. Plantains are extremely common in the USA and South America, but are something that we don't find much of in Australia. They look like a banana but are MUCH starchier and not sweet at all – more like a potato in terms of starchiness and flavour. That's why they make such a great candidate to make chips with.
Plantains are also low FODMAP for those interested and are slowly becoming more available in fruit and vegetable stores in Australia. Similarly, Turbo Snacks have a range of plantain chip flavours (natural, garlic, chilli) and are available in several stores around Australia.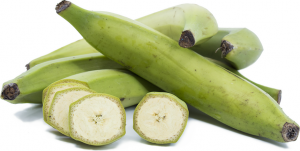 Recipe Type: GF, DF, RSF
Serves about 4 people
Time  45 min
Ingredients:

2-3 45g bags of Turbo Snacks Plantain chips – chilli flavour (these will be the chips for your nachos)
Nacho Mince & Bean Mix
Loaded Guacamole
Fresh Salsa Salad
Dairy-Free Melty Cheese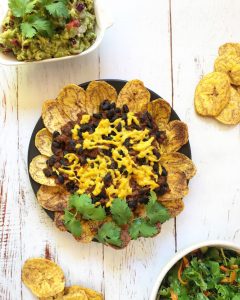 Method:

If using Dairy-free melty cheese then prepare it at least 3 hours before needing for the nachos.
Prepare the loaded guacamole, place in fridge until needed for serving.
Prepare the fresh salsa in a bowl by placing all ingredients in a bowl and tossing together with your hands or salad tongs. Place in fridge until needed for serving.
For the nacho mince and bean mix, place the onion and garlic in a medium fry pan with a little Extra Virgin Olive Oil over medium heat.  Sautée for 3 mins until translucent, add mince, Mexican spice and cook to brown.
Add passata, broth and black beans and stir to combine. Allow to simmer for 15-20 mins.
Preheat a hot grill.
Arrange Turbo Snacks plantain chips on an oven-proof dish. Top with meat/bean mixture and grated dairy-free cheese.
Place under the grill to melt the cheese.
Serve with Guacamole and Fresh Salsa Salad.