Another take on Pulled Pork, I hope you love this Mexican Pulled Pork with fresh Mexican slaw. Use it on tacos, in burritos, on sliders or just with the fresh slaw.
If you like this then try my Slow Cooked Lamb/Beef Burgundy, my Pineapple Pulled Pork or my Asian-Style Pulled Pork!
Serves 8-10
Time – overnight in the slow cooker
Ingredients:
For the Slow Cooker:
Slaw:
1/4 of a red cabbage, grated
1 red onion, diced
2 large carrots, grated
1 small red capsicum, diced
1 small green capsicum, diced
2 ears corn, cooked, kernals removed
1 tomato, diced
optional – 1 small chilli, deseeded and finely sliced
handful chopped coriander
Juice of 2 limes
1 Tbsp EVOO
Salt and pepper to taste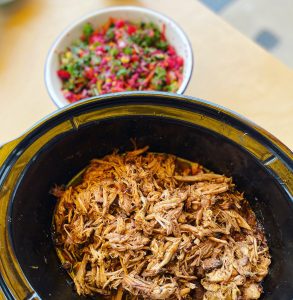 Method:
Remove the layer of fat from the pork shoulder then season (the pork shoulder) with half of the Mexican Spice Mix. You can use the fat to make crackling if you like!
Pan sear on all sides of the shoulder for several minutes until browned (this helps enhance the flavour). Add the seared' pork shoulder, onion, garlic, broth to the slow cooker, top the meat with the remaining spice mix. Cook on low for 8-10 hours.
Prepare the slaw by tossing all ingredients together in a large bowl.
Remove pork shoulder from the slow cooker and place in a tray. Using 2 forks, pull the meat apart, it shouldn't take much effort at all as the long slow cook really tenderizes the meat.
Transfer the juices from the slow cooker to a medium pot and heat on the stove over medium heat for about 20-30 minutes to reduce. I also added a tablespoon of tapioca flour and Agar Agar to help it thicken.
Add the reduced sauce to the shredded meat and stir through to combine well.
Serve straight away either as is with the fresh slaw, alternatively, serve on slider buns, in lettuce leaves, tacos or in a wrap!