What do you do when you have Christmas ham coming out of your ears? Get creative with different uses for it of course! Many of you know that my heritage on my mother's side is Dutch. And one of the best things you can eat when you're in the Netherlands is Pannekoeken! People often see the smaller "Dutch Pancakes" or Poffertjes at market stalls but pannekoeken are an extremely popular dish in Holland. In fact, most town in the Netherlands will have a "pannekoekhuis" restaurant dedicated to just serving pannekoeken!
Pannekoeken are like crêpes but are thicker and are served to you flat on a big plate and often with things cooked 'into' them, either sweet or savoury toppings. I've made this version a savoury pannekoek, using my leftover Christmas ham!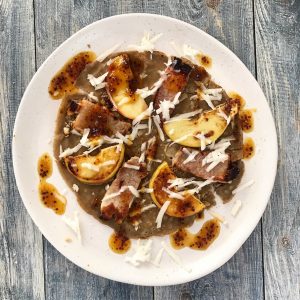 Serves 4-6
Time – 30-40 mins
Ingredients:
1 1/4 C Buckwheat Flour
3 large eggs
1/4 C EVOO
1 C nut milk of choice or water.
pinch salt
slices of leftover Christmas Ham
2 apples, cored and sliced
(optional) grated hard goats cheese to garnish
(optional) left-over glaze or maple syrup as a 'sauce'
Method:

Place flour and salt in a bowl. Whisk in eggs, EVOO and milk until the batter is kind of like Passata in thickness/viscosity (add less or more milk/water for thicker/thinner crêpes).
Heat a fry pan to medium heat and grease. Use a ladle to pour one spoon of batter onto the pan while the other hand swirls the pan so the batter evenly spreads around the pan.
Arrange slices of ham and apple on the face-up side of the pancake amongst the uncooked batter. Cook until bubbles appear on the pancake, or the bottom is slightly brown (check by peaking underneath one of the sides of the pancake). Use an egg flipper to flip the pancake and cook for 1-2 mins the other side or until golden.
Repeat with the rest of the batter mixture and ham/apple. Should make about 6 x 22cm crepes.
Serve with grated hard goat's cheese and some left-over ham glaze or maple syrup.