I learnt how to make Farinata while I was travelling in Italy in 2016. It's also known as Torte di Ceci or Farinata di Ceci and originates from the region of Liguria. Since 2016 I've made it regularly as it's great for many different occasions such as: as part of a nibbles/antipasti platter, as a savoury pancake and as the base for a gluten-free pizza! It's been part of my Italian Inspirations recipe ebook for a long time now, but after so much great feedback from friends, family and those who've bought my Italian Inspirations ebook, I've decided to share my farinata recipe with you publicly!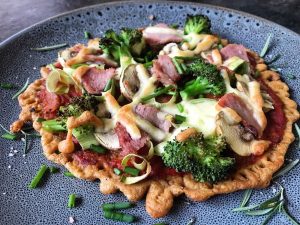 Recipe Type: GF, DF, Vegan
Serves 2-4 depending if it's a side or main.
Ingredients:
1 C chickpea (besan) flour
1 1/4 C lukewarm water
1 t salt
1 t pepper
1 T Rosemary (dried or fresh, not the woody part)
2 T Cobram Estate EVOO + extra for cooking
For Pizza
Your favourite pizza toppings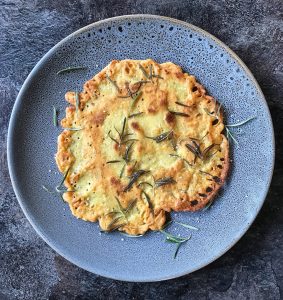 Method:
Place chickpea flour, salt and pepper into a bowl.
Slowly add the water, whisking to remove lumps.
Stir in 2 T EVOO and Rosemary.
Cover and leave for a 2 hours, up to 12.
Preheat oven to 250C WITH a cookie pan/pizza pan/pie dish in the oven.
Once oven is pre heated, add EVOO to the pan – enough to make a sheen on its surface.
Close oven for 2 minutes.
Open the oven, slightly remove the pan with one hand and pour batter into the pan with the other (you want to minimise the time the pan is out of the oven as much as possible so only very little heat is lost).
Move the pan around as needed to allow the batter evenly spread out.
Close oven door and bake for 5-10min or until golden and crispy on the outside (actual time will depend on your oven).
Remove from oven and allow to cool.
To make a pizza, turn the oven down to 180C. Transfer the farinata to a baking tray lined with baking paper. Top the farinata with your favourite pizza toppings and bake for a further 10 minutes.