I love beetroots, mainly because of their colour and great flavour! But they also have countless health benefits including increased stamina, lowering blood pressure, improved digestion plus a whole host of antioxidants and vitamins. Check out my article 6 Reasons to Eat More Beetroot to find out more. Beets are most well known for use in savoury dishes, but I decided to get a little creative and use them in this bircher recipe!
Soak your Beetroot Bircher Muesli overnight and it's ready by the morning. Served here with a fresh fig, yoghurt and sesame seeds!
Serves: 1
Time: 5 min to prepare, then overnight to soak
Other info: GF, DF, RSF, V, Paleo
Ingredients:
about 1/2 C grated beetroot (I often end up with closer to 3/4 C)
1/2 C you favourite muesli (I love Nutiiboost or Paleo Hero)
2 t chia seeds
1/2 C nut milk
1 T coconut yoghurt
Optional
pinch ground cinnamon/nutmeg/ginger
1 T raw cacao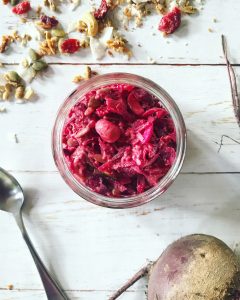 Method:
Combine all ingredients together in a bowl.
Leave in fridge overnight to soak. Add more liquid if necessary.
Serve as is or with some fresh fruit and extra coconut yoghurt!