Vanilla Slice had to be one of my favourite bakery treats as a kid. There was just something about the creamy custard filling and sweet vanilla flavour that won me over every time, even when it was competing against other bakery staples like scones, caramel tarts and lemon meringue! Now, as a nutritionist who has clients intolerant to things like dairy and gluten, I decided to experiment with a GF/DF vanilla slice.
The Vanilla Slice pastry was simple enough – I just adapted the fabulous Casey-Lee's recipe from Live Love Nourish. The custard, on the other hand, is another story… With several failed attempts ending in me eating runny custard with pastry 'dippers' for dessert haha! ANYWAY, after refining and tweaking the recipe several times, I am finally able to bring you the final version of vanilla slice below!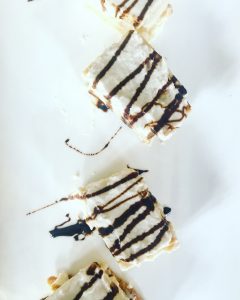 Recipe Type: GF, DF, RSF, Paleo
Serves 6
Time  6 hrs (mostly setting time in the fridge)
Ingredients:

For the Custard Filling
200mL nut milk of choice (I like to use homemade macadamia or cashew milk)
200mL canned coconut cream (if the cream has separated in the can then blend it together then measure our 200mL)
2 tsp vanilla powder or extract
1 T coconut oil or butter
2 T Maple Syrup
1 T organic gelatine + 2 T hot water to soften
2 T potato starch (or tapioca, arrowroot or corn starch) + 1/4 cup water
2 egg yolks
To make this vegan: omit the egg yolks (maybe use a tiny bit of turmeric for that yellow colour), use Agar Agar instead of gelatine. Note – I haven't actually tried this but that's what I'd do to make it Vegan.
For the Pastry (adapted from Casey-Lee's recipe over at Live Love Nourish)
1 cup blanched almond meal
1.5 T potato starch (or tapioca, arrowroot or corn starch)
1 large, free-range egg
1 T cold-pressed macadamia oil
1 t maple syrup
1 t vanilla powder or extract
For a vegan version – try this vegan pastry recipe.
"Frosting"
1/3 C refrigerated coconut cream
1 t maple syrup
1/2 t vanilla
2-3 t blackstrap molasses
Method:

Preheat the oven to 175 degrees Celcius
Prepare the pastry. First whisk the egg, oil and maple syrup together in small bowl. In a separate bowl, combine the almond meal and potato starch. Add the wet ingredients to the dry and combine well. Use your hands to form the dough into a ball and place onto a piece of baking paper. Place another piece of baking paper on top and use a rolling pin to roll out the pastry such that it's about 1/2 a centimetre thick.
Place the pastry on a baking tray and bake for 15-20mins or until golden (keep an eye on it).
Remove from the oven and allow to cool completely.
Prepare the custard filling. In a small pot over medium heat, heat the milk, coconut cream, coconut oil, maple syrup, vanilla to a point just before it boils but so that it's all combined. Remove from heat.
In a small bowl, whisk together the potato starch and water until smooth and no lumps appear, whisk-in the egg yolks until combined. In a separate bowl whisk together the gelatine and hot water.
Now, add the gelatine mixture to the milk mixture, whisking gently to combine. Then add the egg/starch mixture to the milk, again whisking gently to combine. Return the pot (now with everything in it) to a gentle heat while gently whisking for about a minute or until it thickens. Remove from heat.
Line a baking tray or casserole dish with some cling wrap or baking paper. Trim the pastry such that it fits in the bottom (you will need two pieces the same size, one for the bottom, one for the top). Place one piece of pastry on the base. Pour the custard over the top. Place in the fridge for 1 hour. In the meantime, slice the other piece of pastry into long rectangles (this will make it easier to slice once it's set). After 1 hour, remove the place the remaining pastry rectangles you've just sliced on top and return to the fridge for 4-5 hours or until set.
Make the frosting by mixing together the coconut cream, maple syrup and vanilla in a small bowl
Carefully use the edges of the cling wrap/baking paper to lift the vanilla slice out of the tray and place on a cutting board. Top with the frosting and spread out evenly with the back of a spoon or spatula. Drizzle the blackstrap molasses over the top. Slice carefully and enjoy!