Steak & Guinness Pie is a perfect winter warmer to indulge in on those cold nights when all you want to do us curl up on the couch. I make the 'stew' of the pie in my slow cooker and then transfer to a pie dish to finish off in the oven with a topping of veggie mash or pastry.
Alternatively you can freeze the Steak & Guinness Pie stew in portions to have down the track as individual serves. I live by myself so this works great for me – just take a serve out to defrost in the morning then place it in a glass bowl to warm up in the oven in the evening with a topping of pastry or mash (+ a serve of green veggies of course).
If you need a good pastry recipe – try this recipe otherwise use a store-bought one.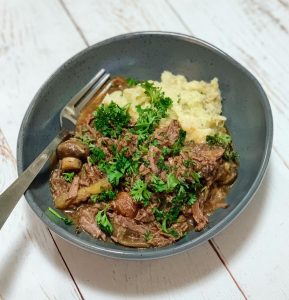 If you like this recipe then you might also like some other winter warmer recipes:
Serves 8-10
Time – overnight in the slow cooker
Steak & Guinness Pie Ingredients:
~1.5kg chuck steak, fat trimmed cut into 2cm cubes (or brisket) – Organic Free Range, I love Sherwood Rd Organics
1 x 500mL can Guinness
2 Cups broth (beef/chicken/vege)
1/2 cup plain (gluten free) flour
3-4 carrots, chopped into 2cm lengths
1/2 a bunch of celery stalks, chopped into 2-3cm lengths.
1 brown onion or 1 leek (white part only)
6 cloves garlic
5 sprigs thyme
2 bay leaves
1 sprig rosemary
1/2 cup passata (tomato puree)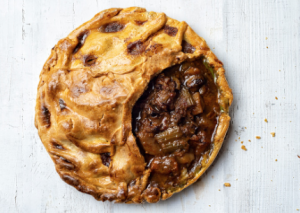 Method:
Pat the cubes of chuck/brisket dry with paper towel and season with salt and pepper. Coat the cubes lightly with flour.
Heat a fry pan to medium-high heat. Grease with Extra Virgin Olive Oil. Add a batch of beef cubes to the pan and brown each side. Set aside and continue until all the cubes are browned all over.
Place the beef in the slow cooker with all the veggies, herbs, guinness, broth and passata. Give it a good stir and add a little more broth if needed to ensure all veggies/meat are covered.
Cook on low for ~7 hours.
Remove the lid of your slow cooker and turn the setting to high for another 30-60 minutes – this will have a simmering effect and help the liquid to reduce.
If you're making a whole pie, then transfer to a pie dish and finish-off in the oven with pastry or Cauli/parsnip/potato mash on top. Serve with seasonal greens or a garden salad.
Alternatively you can do individual 'pot pies' by dividing the stew between ramekins and topping each one with some mash or pastry.
Any leftovers freeze really well.