Why settle for the same old Hot Cross Buns when Easter comes around each year? Why not change things up this year and give your batch of HCBs a little kick? These Choc-Chilli-Peanut Butter Hot Cross Buns will definitely fit the bill. You can also try my Incaberry, Ginger, Tahini & Molassess HCBs for another different flavour!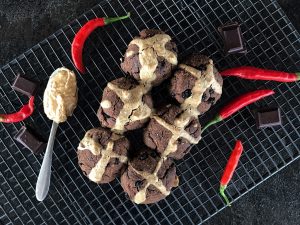 Recipe Type: GF, DF, Paleo
Makes ~12 small buns

Ingredients:
Dry
3 C Almond Meal (you can also use a combination with tigernut, teff, buckwheat)
2 tsp baking powder
4 t chai spice blend (use your favourite) or [1 t ground ginger, 1 t ground cinnamon, 2 t mixed spice]
1 tsp vanilla powder (or paste)
1/4 C raw cacao powder
1/2 t chilli powder
pinch salt
1/2 C currants
1/2 C 100% dark chocolate, roughly chopped
Wet:
1/3 C butter or coconut oil (melted)
2 Large eggs
2 T maple syrup
1 generous T peanut butter (plus extra for crosses)
Method:
Preheat oven to 170degC.
Place all dry ingredients into a large bowl and mix together.
Whisk wet ingredients together in another bowl then add to dry ingredients and combine well, using your hands if you need to.
Mould the mixture into 12 mini-buns, or 6 larger buns, and place on a baking tray lined with baking paper.
In a small bowl, whisk together 2 tbsp peanut butter with 2 tbsp water. Using a spoon, carefully drizzle the peanut butter/water mixture down the middle of the buns (both directions) to create crosses.
Place in the oven and bake for 20mins.
Remove from oven and allow to cool before devouring!