So yesterday I had a craving for brownies ?… But then a bag of Paleo Hero Primal Muesli arrived at my doorstep… But I still had a craving for brownies… So I made brownies out of the muesli!
Your eyes didn't deceive you – these are brownies made with Paleo Hero Primal Muesli! 
5 simple ingredients is all you need to make these gooey, and delicious primal muesli brownies.
The Paleo Hero Primal Muesli is another fabulous real food product made here in Brisbane; just nuts, seeds, berries honey, coconut, cinnamon. So simple. What more could you need from real food? Of course there are the traditional uses for muesli – breakfast, bircher, porridge, muesli bars, muesli muffins – but I wanted to make something a little different. I was craving brownies so figured I had to work out a way to make it into a brownie.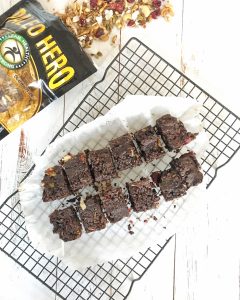 Safe to say, I'm extremely happy with how this recipe experiment turned out, and on the first go too! Didn't even need to re-test! They're definitely a little 'chunkier' than your average brownie because a food processor won't blitz the muesli into a super fine flour, but I think that really adds to the delicious and decadent amazingness that goes on in your mouth when you take a bite.
Recipe Type: GF, DF, RSF, Paleo
Serves 12 brownies
Time  30 mins
Ingredients:

2 large eggs
1/4 C melted coconut oil
1/2 C raw cacao
1 T coconut flour
Optional (but really, quite essential lol):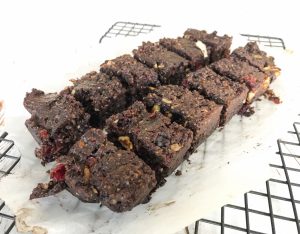 Method:

Preheat oven to 180 degrees. Line a loaf tin or 20cm baking tray with baking paper.
Blitz the muesli in a food processor into a course flour.
Transfer to a bowl, add remaining ingredients (including dark chocolate and extra muesli if using) and mix well to combine.
Transfer to the lined baking tray or loaf tin, and flatten using a spatula to even out. Bake for 20 minutes.
Remove from oven and allow to cool for 15 minutes before slicing and devouring!
Best eaten fresh. Otherwise store in the fridge and warm up gently if eating later.