I've been having a real craving for asian-inspired flavours and foods lately. Plus I found this gorgeous organic brown rice miso paste at Sherwood Rd Organic Meats so have been enjoying experimenting with that. So today, I bring you a simple yet delicious dinner for one which can be easily scaled up for 2 or more, and made vegan as well. Miso-honey Glazed Chicken.
If you like this then check out my Spicy Whole Baked Cauliflower and my recipe for Cabbage 'steak'! Or even my recipe for Okonomiyaki. Okonomiyaki is a Japanese dish that is basically a big cabbage pancake (or fritter).
Recipe Type: GF, DF, RSF, Paleo
Serves 1
Time  45 min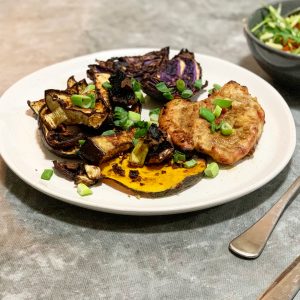 Ingredients:
150g Chicken Breast, or a couple of drumsticks, or tofu/tempeh 'steak'
Green parts of 1 spring onion
2 mushrooms
1/2 an eggplant, sliced into chunks
1 slice of pumpkin
1 chunk red cabbage
side salad to serve if desired
Marinade
1 t miso paste
1 t honey
1 t tamari sauce
1/2 t minced ginger
1/2 t minced ginger
1/2 t minced galangal
1 small red chilli, deseeded, chopped
2 t lemon or lime juice
Method:
In a small bowl, whisk together the marinade ingredients.
Add half the marinade to the chicken/tofu in a bowl and allow to marinade in the fridge for a few hours. Reserve the rest of the marinade.
Preheat oven to 190degC.
In a large bowl, toss the remaining marinade through the vegetables (except green parts of spring onions). Spread vegetables out on a lined baking tray and bake for 10mins.
After 10mins, remove from oven, add chicken or tofu and return to the oven for a further 15 minutes or until all vegetables and chicken ar cooked.
Serve topped with the green parts of the spring onions and optional green side-salad.